Big Netflix Beat Has Analysts Debating How High Stock Can Go
(Bloomberg) -- Wall Street is largely bullish on Netflix Inc.'s growth prospects as better-than-expected subscriber gains and an upbeat outlook reassured investors and sent the stock up as much as 9.7 percent. Many analysts boosted their price targets, including Goldman Sachs, which said the shares should continue to outperform as the company's cash burn approaches an inflection point. KeyBanc Capital Markets was less optimistic on the upside, noting that margin expansion and investment efficiency aren't exceeding expectations.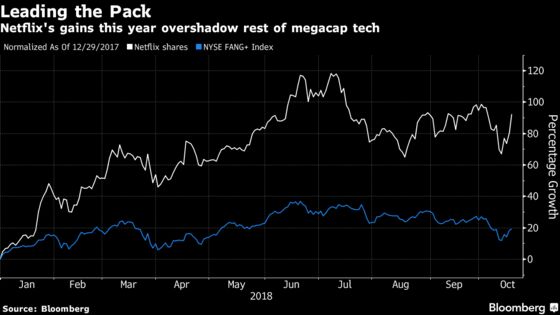 Here's what analysts are saying about the results:

Goldman Sachs, Heath P. Terry
"The correlation between content spend and subscriber net adds strengthened for the sixth consecutive quarter."
"As Netflix subscriber adds continue to exceed expectations and it approaches an inflection point in cash profitability following the current investment period in advance of the loss of Disney content late next year, we believe shares of NFLX will continue to significantly outperform."
Goldman Sachs has a buy rating on the stock and raised its price target to $480, the highest among analysts tracked by Bloomberg, up from $430. The new price target implies 39 percent upside from the stock's last closing price. The shares had already gained 80 percent on the year, through Tuesday.
Imperial Capital, David W. Miller
Netflix "easily surpassed its own bogeys" with third-quarter subscriber additions and fourth-quarter subscriber forecast that was well ahead of estimates.
"Overall technology-related expenses came in materially lower than we projected going in, and marketing expenses were $35.6mn below our estimates, which was one of the reasons for the mark-up after hours."
Miller has an outperform rating on Netflix but trimmed his price target to $464 from $494, which had been the highest on Wall Street. He said the cut was due to a rate increase in his discounted cash flow analysis, "not because of anything fundamentally wrong" with Netflix.
Buckingham Research Group, Matthew Harrigan
"Increased spending largely offsets strong member momentum."
Harrigan raised his price target on Netflix to $349 from $305 but maintained his underperform rating. "We feel that our revised price target generously accommodates a long arc for potential higher Asian growth while recognizing that 2019 operating margin and free cash flow burn actually worsens from our prior forecast off costs to achieve the incremental growth."
"Improving investment efficiency or significant ancillary opportunities" are required for Netflix's stock to rise meaningfully from current levels, Hargreaves said in a report, cutting recommendation to sector weight from a previous overweight.
While the analysts continue to view Netflix's strategic positioning favorably, they do not see either happening over the next year. Shares could reach fair value at $377, the report said.
Morgan Stanley, Benjamin Swinburne
Netflix is likely to see further growth in 2019 amid its successful expansion into new genres and growth in new geographies, analysts including Swinburne wrote in a report.
The company has "consistently reinvested its near-term success into deepening its competitive moat," which has allowed it to find success in widely diverse markets around the world.
Netflix might add more than 25 million paid global subscribers again in 2019 and could become free cash flow positive in 2021. Morgan Stanley raised the price target to $475 from $450, just a day after cutting it from $480 before the earnings. The bank maintained its overweight rating.
"Long-term fundamental trends remain very, very, very much intact," Mahaney wrote in a report increasing the price target by $10 to $450, keeping the outperform rating. Netflix is about as close to an "open-ended growth" story as you can find in today's market, he said.
Not only is the company's consumer value proposition "compelling", global subscriber additions and streaming revenue are "accelerating", and it has pricing power and expanding corporate margins, the analyst said.
"Set-top box integrations and bundling deals that are likely aiding in increased uptake among late adopters," analysts led by Blackledge said in a note. He raised the price target by $30 to $430, keeping his outperform rating.
Stifel, Scott Devitt
Stifel expects to get more granularity on Netflix's 2019 expense plans by line item next quarter, while the company will see easier expense comparisons in 2019 given the push toward self-produced content and content-specific marketing ramp-up in 2018.
Devitt estimates steady domestic growth and accelerating international momentum will help attract 29 million clients also next year. He kept his buy rating, raising his price target to $474 from $395.