Motorola Launches 5G Phones, Highlighting Missing IPhone Feature
Motorola on Wednesday debuted a pair of 5G smartphones, joining a wave of upgrades among Android device vendors and highlighting the relative slowness of Apple and Google in offering the latest and fastest networking.
The two phones -- the Edge and Edge+ -- are built around a 6.7-inch display that curves around the sides and makes for an edgeless appearance. A Verizon exclusive, the highly-specced Edge+ costs $999, matching the much smaller iPhone 11 Pro. It has a 108-megapixel camera, a supersized battery and a 3.5mm headphone jack, a rarity among flagship phones. Motorola's less premium Edge has a slower processor, less memory and a lower-resolution camera, but its price hasn't been disclosed yet.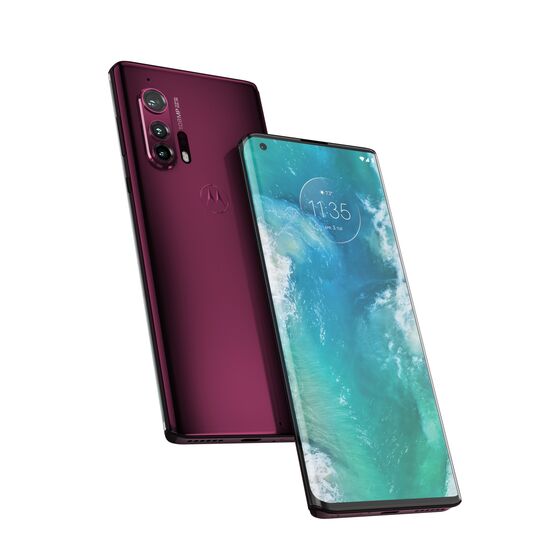 The market for phones approaching or surpassing $1,000 has so far been dominated by Apple Inc. and Samsung Electronics Co., and it's unclear if consumers have the appetite for other brands at that price tier, particularly as the global economy struggles with Covid-19. Lenovo Group Ltd. subsidiary Motorola returned to the spotlight in recent months with the launch of the foldable Razr. That phone launched at $1,499, but has been mired by display issues reported by its owners. More habituated to offering budget-friendly phones, the company's Moto G line has been well received and continues to do well.
Of the five top smartphone makers by global market share -- Samsung, Apple, Huawei, Xiaomi and Oppo -- only Apple lacks a phone with fifth-generation networking. Motorola's sales and brand recognition have increased in recent quarters, and it joins other smaller brands like OnePlus in debuting 5G devices in collaboration with Verizon Wireless Inc. By the time this year's crop of iPhones are unveiled, only Alphabet Inc.'s Google, with its Pixel line, is likely to lag Apple in embracing the new wireless standard.
Apple is planning to launch four new iPhones with 5G capabilities later this year. The company is also preparing a new iPad Pro-like design for its phones, featuring sharper edges and LIDAR sensors for some models, Bloomberg News has reported. The Cupertino, California-based tech giant has typically adopted new networking generations later than rivals, as it did when launching 3G and 4G LTE iPhones after most competitors.
In the past, the absence of new wireless tech has been ignored by consumers clamoring for Apple's design and software advantages, however the company's phones have grown in price since the 3G and 4G transitions and most users are now holding on to them for longer, so many might now insist on compatibility with the networks of the future.
Motorola's sales pitch for entering the premium segment of the market is a no-compromise spec sheet that covers all the latest tech advances, such as Wi-Fi 6 and fast wireless charging, combined with a pristine version of the latest Android 10 -- "just near-stock," in the company's words.
With the global economy hurting from the novel coronavirus and many consumers' priorities shifting to essentials, strong demand for new devices is unlikely to return before Apple's planned launch of its next set of iPhones. But that still leaves a window for brands like Motorola to differentiate themselves.