Micron Flounders Below Technical Defense Lines After 24% Rout
(Bloomberg) -- Micron Technology Inc.'s plunge since late May has pushed the shares to a technical level unseen in more than two years.
The largest U.S. manufacturer of memory chips was swinging between gains and losses Thursday after a 6.2 percent drop a day earlier pushed shares below their 200-day moving average. They breached the 50-day and 100-day lines last month, on their way to a 24 percent slump from an 18-year high on May 29.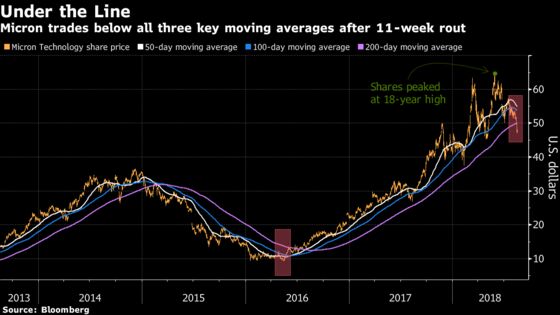 Micron has rarely dipped below any of those levels in recent years, let alone all three. The last time that happened was in May 2016.
The stock has been losing momentum amid concern that memory prices will continue to fall. It had been this year's best performer in a group of 30 semiconductor companies as recently as June 1, having gained 43 percent. It has since trimmed that gain to 15 percent.