Let's Give the Europe Equity Bull Case Another Go: Taking Stock
(Bloomberg) -- Yes, we've heard it all before: European equities will outperform because they're cheap chronic laggards. In the past, such a show of strength never really happened for much longer than a season before everyone gave up.
But it's the new year, so let's give this another go. The case for a rally is not entirely a pipe dream: Since the S&P 500 peaked in October, the Stoxx Europe 600 has outperformed it by 2 percentage points just by virtue of falling less.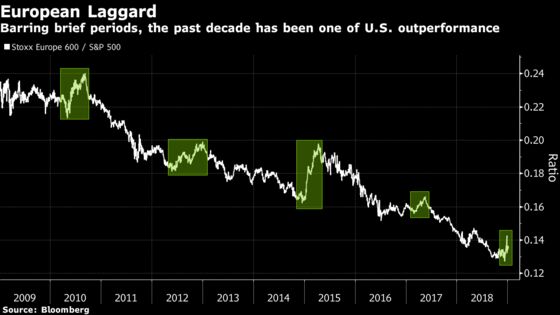 Now some analysts and investors are saying Europe's time will finally come, possibly in the second half. The main obstacle is that economic momentum has been deteriorating lately, with Italy on the cusp of a recession and the latest manufacturing gauges in countries from France to Sweden sliding. U.S. growth, the rising tide that's supposed to float all boats, has also flashed more worrying signs lately.
Europe's cyclical sectors -- trading at the lowest levels versus defensives in more than two years -- encapsulate these woes. And it's particularly problematic for the region's market, which is more dependent on the economic cycle than the U.S.
But keep your chin up. Europe's economic picture could brighten in the second half as public protests force a bit more fiscal support for the region and monetary policy remains accommodative, according to Maarten Geerdink, head of European equities at NN Investment Partners. The adverse effects of new emissions tests on cars that plagued growth last year are also set to fade. His firm oversees about $277 billion in assets.
But to him, it's still too early to turn bullish on cyclicals. Morgan Stanley agrees: Its strategists argued in a Jan. 4 note that the underperformance of these stocks isn't excessive given falling global PMI readings and still worsening relative earnings revisions.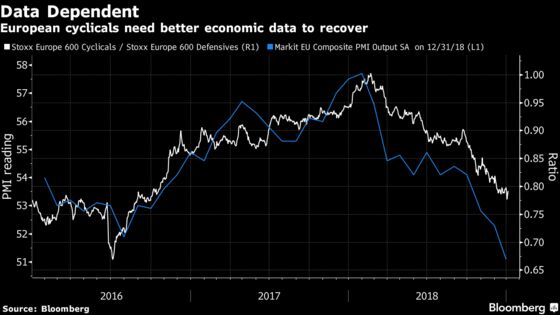 "There is ample time to go back to these names because they've been bombed out quite dramatically, so they have quite a lot of re-rating potential," Geerdink said by phone last week, referring to European cyclicals. "But this is of course subject to seeing an improvement in the European economy."
Of course, there's politics. But the budget showdown between the European Union and Italy has been averted for now. And a Brexit deal is still the base case for most investors.
Also in the hopeful camp is the Wells Fargo strategy team. It argues that the value factor's recovery will help European equities. That will happen when the yield curve ceases to flatten as U.S. monetary tightening enters its final stages in the second half, according to Christopher Harvey, the head of equity strategy at the American bank.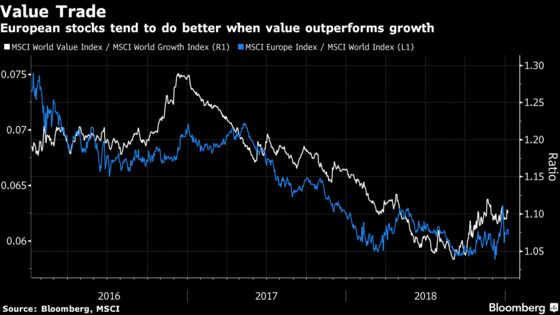 Over the past year (and in the case of value, since the financial crisis), bullish calls on value and European stocks have felt like trying to make "fetch" happen -- it just doesn't, no matter how many times you say it. But with the U.S. bull run looking decisively over, perhaps Europe's cheaper valuations will finally lure some buyers back. Just wait a bit longer. In the meantime, Euro Stoxx 50 futures are trading up 0.4% ahead of the European open.
Watch trade-sensitive sectors, such as autos, miners and technology, as the outcome of the highly anticipated talks between U.S. and Chinese officials over trade is awaited. This is all ahead of a planned prime-time televised address by President Donald Trump on Tuesday in the midst of both those talks and the negotiations domestically to end a government shutdown.
Watch the pound and U.K. equities as Prime Minister Theresa May is said to be planning to accept a proposal from pro-EU politicians that would make it more difficult to leave without a deal. Unfortunately for the PM, that could also weaken her tactic of using the threat of crashing out with no agreement to push through her own proposals. Much more of this is likely to come before the meaningful vote on May's plans, due next week.
Watch technology, particularly semiconductors after Samsung Electronics Co. Ltd.'s quarterly profit and sales missed estimates amid weakening demand for memory chips. It echoes a prior warning by Micron Technology Inc. and adds to the woes inflicted on the market by Apple Inc.'s guidance downgrade last week. Given the recovery in the past two sessions for technology stocks and in spite of underlying optimism on the trade talks, this could weigh heavily. In Europe, Samsung suppliers include ASML, STMicroelectronics and Siltronic.
"We have seen outflows from Europe equity since March, and in that sense, positioning is more supportive than in early 2018," Goldman Sachs strategists write in a note. "However, the outflows are not as large as in 2016, and they tally well with weaker growth."
Sika offered to acquire Parex at an enterprise value of 2.5 billion Swiss francs, adding a U.K. maker of mortar and other construction materials to expand a key business for the Swiss chemicals group. Meanwhile, Sika full year sales meet estimates.
Swedish lender SEB AB plans to hire 10 advisers to kick start a new push into all things energy.
French Minister Penicaud Says Ghosn Remains Renault Head
Orange Won't Make the First Move in French Consolidation: CEO
Siemens-Alstom Assets Are Said to Draw Bids Amid Push to Sway EU
UBS Considers Replacing Asset Management Chief Koerner: Finews
Monsanto Wins Legal Battle for Patent on Cotton Seeds in India
Veoneer Wins Order for Mass-Production Lidar System
Nordex Gets 300 MW Order for Project in India
Novartis's Crizanlizumab Gets Breakthrough-Therapy Designation
Kid ASA Fourth Quarter Revenue Beats Highest Estimate
Shell to Invest $1b-$2b/Yr to 2020 in New Energies: CEO (Jan. 7)
EnBW Has Acquired 51 Wind Turbines in Sweden: Dagens Industri
Valeo Plans Further Cost Cuts, CEO Says: FT
AXA May Exit Mutual Fund Venture With Bank of India: ET
ESR, AXA IM, Sovereign Wealth Fund Buy $1B Logistics Portfolio
NOTES FROM THE SELL SIDE:
Berenberg has an airlines note out. The broker cut Ryanair to sell, saying the company is facing sustained competitive pressure to pricing and a "highly uncertain" cost progress. Berenberg sees elevated shorthaul pricing risks, exposing low-cost carriers to potential value trap. Easyjet is kept at sell, although Wizz Air is a buy on company's ability to fend off unit revenue pressure and control costs. The bank still sees value in flag carriers such as buy-rated IAG and Air France-KLM following drop in shares based on cycle fears, as they retain positive supply/demand setup to enable them to hold onto pricing into 2019.
RBC double-downgraded Vodafone to underperform from outperform, saying the portfolio restructuring has left the operator a more European and more converged business but also "vulnerable" to challenging underlying markets and with a dividend that looks unsustainable. The bank slashed the target price to an equal street-low of 125p from 260p previously.
Jefferies upgraded Electrocomponents to buy from hold, with valuation now offering attractive risk/reward in absence of an economic recession. The broker called the stock an "oversold cyclical," citing the company's ability to deploy GBP500m surplus capital over the next two years, and a number of self-help initiatives under a new management team.
TECHNICAL OUTLOOK for Stoxx 600 index:
Resistance at 344 (Upper trend channel); 353.2 (50% Fibo)
Support at 326.5 (76.4% Fibo); 317.2 (July 2016 low)
RSI: 48.6
TECHNICAL OUTLOOK for Euro Stoxx 50 index:
Resistance at 3,072 (61.8% Fibo); 3,122 (50-DMA)
Support at 2,921 (76.4% Fibo); 2,678 (100% Fibo)
RSI: 47
MAIN RESEARCH AND RATING CHANGES:
UPGRADES:
Bankia upgraded to hold at Jefferies; Price Target 2.60 Euros
Capital & Counties upgraded to add at Peel Hunt
Electrocomponents upgraded to buy at Jefferies; PT 7 Pounds
Keywords Studios upgraded to outperform at Davy
Outotec upgraded to buy at Goldman; PT 4.30 Euros
Prysmian upgraded to buy at Goldman; PT 21 Euros
SMCP upgraded to buy at Jefferies; Price Target 17.20 Euros
Storebrand upgraded to overweight at JPMorgan; PT 72.30 Kroner
Swiss Life upgraded to overweight at JPMorgan; PT 440 Francs
Geberit downgraded to sell at Goldman; PT 339 Francs
Grenke downgraded to hold at Berenberg
Kion downgraded to sell at Goldman; PT 42 Euros
Kone downgraded to neutral at Goldman; PT 51 Euros
Mapfre downgraded to neutral at JPMorgan; PT 2.62 Euros
Ryanair downgraded to sell at Berenberg
Schneider downgraded to sell at Goldman; PT 60 Euros
Telia downgraded to neutral at JPMorgan; PT 44 Kronor
Unipol downgraded to neutral at JPMorgan; PT 4.10 Euros
Vodafone downgraded to underperform at RBC; PT 1.25 Pounds
Kone rated new buy at SocGen; PT 50 Euros
President rated new buy at Panmure Gordon; PT 15 Pence
Schindler rated new buy at SocGen; PT 235 Francs
MSCI Asia Pacific up 1.9%, Nikkei 225 up 0.8%
S&P 500 up 0.7%, Dow up 0.4%, Nasdaq up 1.3%
Euro down 0.32% at $1.1437
Dollar Index up 0.2% at 95.86
Yen down 0.17% at 108.9
Brent up 0.1% at $57.4/bbl, WTI up 0.1% to $48.6/bbl
LME 3m Copper down 0.4% at $5897.5/MT
Gold spot down 0.5% at $1282.9/oz
US 10Yr yield down 1bps at 2.69%
MAIN MACRO DATA (all times CET):
8:45am: (FR) Nov. Current Account Balance, prior -700m
8:45am: (FR) Nov. Trade Balance, est. -4.95b, prior -4.05b
9:30am: (UK) Dec. Halifax House Prices MoM, est. 0.5%, prior -1.4%
9:30am: (UK) Dec. Halifax House Price 3Mths/Year, est. 0.4%, prior 0.3%
11am: (EC) Dec. Economic Confidence, est. 108.2, prior 109.5
11am: (EC) Dec. Business Climate Indicator, est. 1, prior 1.1
11am: (EC) Dec. Industrial Confidence, est. 3, prior 3.4
11am: (EC) Dec. Consumer Confidence, est. -6.2, prior -6.2
11am: (EC) Dec. Services Confidence, est. 12.3, prior 13.3
(IT) Bank of Italy Report on Balance-Sheet Aggregates