Glasgow Talks Move Into Last Push for Climate Deal: COP26 Update
(Bloomberg) -- Climate talks are heading well into extra time as negotiators are still haggling over how to curb global warming -- and who will foot the bill.
After fraught negotiations, COP President Alok Sharma said late Friday he aims to wrap up the summit on Saturday after another last push. The European Union and Italy is racing to come up with a last-minute plan to raise funds that rich countries have long promised but so far failed to deliver.
Talks over global carbon trading -- a key benchmark for success at the summit -- are also limping along after running into a series of obstacles.
Latest draft waters down coal pledge, calling for a phase-out of "unabated" coal
Vulnerable nations say it's not good enough
Efforts to create a global carbon market hit new hurdles...
...as activists warned of the risk of greenwashing
China is likely to choose energy security over ending coal
The endgame: what to look out for if you're just tuning in
(All timestamps Glasgow, Scotland)
Sharma Says New Texts in the Morning (8:52 p.m.)
Alok Sharma told delegates he'll present new versions of the drafts in the morning, and hopes to wrap up the summit on Saturday afternoon. 
EU Shows Room for Compromise on Loss and Damage (6:53 p.m.)
The European Union is opening up to calls to help compensate poor countries for the loss and damage caused by climate impacts. The 27-nation bloc, which has so far refused to budge on the issue, is changing its stance as talks enter their critical phase. EU climate chief Frans Timmermans told other delegates on Friday that adaptation to climate change is a matter of survival, and he heard that call "loud and clear" this week.
"Loss and damage is a key part of our conversation," he said. "It's time to move and find the solutions to help vulnerable countries respond to the destruction the climate crisis has already caused."
Biggest Hurdle Is Still Keeping 1.5 Alive: Danish Minister (5:53 p.m.)
It's too soon to say when the final communique will be issued, said Denmark climate minister Dan Jorgensen, adding that he thinks negotiations will continue overnight.
"The draft text that's out there now in many ways is looking positive," Jorgenson said in an interview with Bloomberg Television. "The biggest hurdle right now is, can we keep the 1.5 degree temperature increase alive." 
Among the thorniest issues for delegates has been negotiations around the creation of global carbon markets. "This is not a text that will introduce a global carbon taxation system," but it will provide incentives for individual countries to form their own carbon markets, he said.
Brazil Expects Consensus on Carbon Market Text (5:19 p.m.)
"We expect consensus in the next few hours," Environment Minister Joaquim Leite told reports, adding that the country has changed its historical position to help reach an agreement. Brazil is also scaling up pressure for rich countries to provide $100 billion in climate finance, he said.
Sharma Aiming for Adoption of New Text Today (4:20 p.m.)
The COP26 president said new draft texts would be circulated later today for another round of consideration, and hopefully adoption. He didn't mention the fact the conference was meant to be closing in less than two hours.
"The eyes of the world are on us," Sharma said.
China's Delegation Says Coal Can't Go Yet (4:15 p.m.) 
Countries agree on gradually reducing the use of fossil fuels to reduce greenhouse gases but differ on how fast to go according to their national circumstances, said a member of China's COP26 delegation.
"If you ask some countries to stop using coal immediately, then that's impossible," said Li Zheng, who is also the vice president of the institute for Climate Change and Sustainable Development at Tsinghua University, where China's climate envoy Xie Zhenhua was president. Li said the global share of renewable energy is too low for coal to be abandoned now, but that the direction of travel is set. "The next step is for all countries to make their own goals. That's the fundamental way," he said.
Li, who gave a presentation on Friday at a youth event at COP, told Bloomberg that China's youth "are very active on climate issues," despite the absence of public demonstrations. That's because "every country has its own culture and its people have their own ways to express their views," he said.
He cited the core disagreements in the negotiations as Article 6, transparency and financing, but said he was optimistic after the China-U.S. joint statement mentioned working for a successful COP26. "I hope we can solve these problems, and move on to the next step," Li said. "We can't wait any longer."
Deal Seems Some Way Off (3:30 p.m.)
Despite many countries welcoming the atmosphere of collaboration in the negotiating rooms, they also say there's still work to do, including on finishing the Paris rulebook and developing a global carbon market.
At the daily so-called stocktake, China and Saudi Arabia both said the current draft was skewed in favor of wealthier countries because of its lack of detail on climate finance and adaptation. African nations also criticized the European Union for not stepping up.
Meanwhile, nations continue to argue over ending fossil fuel subsidies and coal power. Some small island states complained that the current language is too weak, while the U.S. said it must stay as is in order to gain consensus.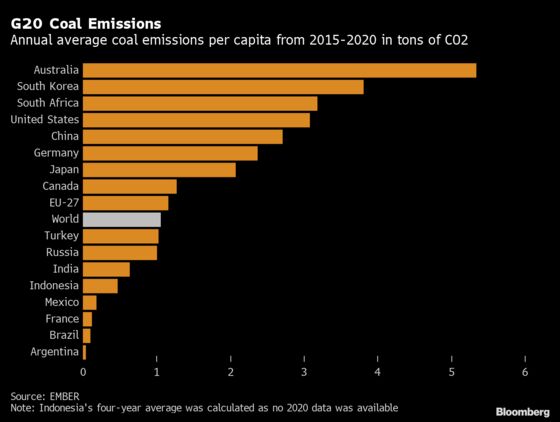 China Says Draft Still Has Holes (3:15 p.m.)
China said the draft that was unveiled today was an improvement on the previous one, but still has holes.
The text needs more on finance and help to developing countries to adapt to climate change, a member of the Chinese delegation told a session in Glasgow. The text should stick to the terms of the Paris Agreement, he said.
China is ready to talk, the delegation member said.
New Draft Language on 1.5C Is Ambitious (2:55 p.m.)
The deletion of a single word in the latest draft of the climate deal being negotiated at the COP26 climate conference signals a surprisingly ambitious move to keep global warming below 1.5 degrees Celsius, Akshat Rathi writes. 
Kerry Calls Fossil Fuel Subsidies 'Insanity' (2:18 p.m.)
U.S. climate envoy John Kerry said spending trillions of dollars on fossil fuel subsidies over the years is the "definition of insanity" while countries are struggling to pay for the green transition. 
G-20 countries provided nearly $600 billion in subsidies and other support for fossil fuels last year alone, based on provisional estimates by Bloomberg NEF.
Kerry welcomed the latest draft text which added lines that only "unabated" coal use and "inefficient" subsidies be phased out, instead of all of them. "That language must stay," he said. "We're not talking about all, we're talking about eliminating. We're talking about the capacity for capture, if you can do it."
But poorer countries, and those most vulnerable to climate change such as the Marshall Islands, criticized the weakening of the language on fossil fuels in the draft text.
Also read: BNEF Takes on COP26: Days 11-13
Saudis Says Latest Text Risks Rewriting Paris (1:52 p.m.)
Saudi Arabia's lead negotiator warned that the latest text risks rewriting the Paris agreement and is still too skewed in favor of wealthy nations.
However, he also said the draft was workable and "can be considered." Keeping alive the 1.5 degree Celsius temperature goal was a "no brainer," he added. 
Vulnerable Nations Say Draft Not Enough (11:30 a.m.)
Fifty countries most vulnerable to climate change said the new draft still doesn't go far enough to compel nations to come back with tougher pledges to cut emissions.
"We are not happy with the annual ambition raising being relegated to a round-table of ministers and only focused on mitigation, and being open-ended rather than until, for example, 2025," a spokesman for the group said.
He also said there remained a "serious trust issue" over how rich countries will pay poor ones to adapt to climate change. However, the group welcomed plans for a new loss and damage finance facility.
Draft Still Missing Vital Elements: Oxfam (11:02 a.m.)
The latest draft is still missing key elements, particularly the absence of any mention of the plan to finance loss and damage for countries most at risk of climate change, said Tracy Carty, head of Oxfam's COP26 delegation said. 
"We need an unambiguous deal in Glasgow that commits governments to coming back next year, and every year after that, with improved targets that will keep the goal of 1.5 degrees alive," she said. "This is the final countdown."
Phasing Out 'Unabated' Coal Use (10:53 a.m.) 
As negotiators haggle over COP26 texts, a key word on coal use was inserted overnight, after resistance from countries including China. Now the text calls for a phase-out of "unabated" coal.
That term is generally means burning the fossil fuel without using any emission-reduction technologies such as carbon capture and storage.
The problem is there are still relatively few projects that focus on abating emissions, though major coal producer Australia has promised to invest some A$500 million in new ones. Critics say the technology is still too expensive and shouldn't be used as a license to burn more fossil fuels.
Chinese officials have been promoting carbon capture in Glasgow. Sun Zhen, a member of the country's negotiation team, said this week that "instead of focusing on reducing the use of coal, we should focus on how to reduce the emissions of coal" using technology.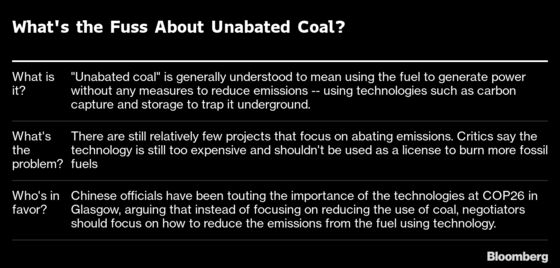 Wrangling Starts Over Single Words (10:32 a.m.)
COP negotiators are famous for squabbling over tiny details of every text and this summit is no different. 
The new draft that dropped this morning "requests" countries come back with new carbon-cutting pledges next year. That replaces the word "urges" in a previous draft.
Now people are trying to work out which word is stronger. Usually in UN-speak, "urges" is. But an official style guide by the United Nations Framework Convention on Climate Change suggests the reverse is true.
COP26 President U.K. has consulted UN lawyers in New York and been told that "requests" is a stronger demand. It's one more thing that countries will need to get to the bottom of before they go home.
Carbon-Market Talks Still Stumbling (10:23 a.m.)
Negotiators remain apart on the key sticking points in COP26 talks about global carbon markets, according to a new document published on Friday. One of the most contentious issues is establishing rules on how to prevent double-counting of emission-reduction credits under the new offset program. An option backed by the U.S., Brazil and Japan is under fire from environmental lobbies, which say it would amounts to little more than hot air and greenwashing.
Australia Kids No One at COP26 With New Net-Zero Modeling: BNEF (9:50 a.m.)
Australia Prime Minister Scott Morrison has yielded to pressure and released the modeling that informed the country's plan to reach net-zero emissions by 2050, as announced Oct. 26. This new report won't do anything to appease critics at the Glasgow talks of the overall emission plan, nor the government's failure to upgrade its 2030 climate plan, according to BloombergNEF.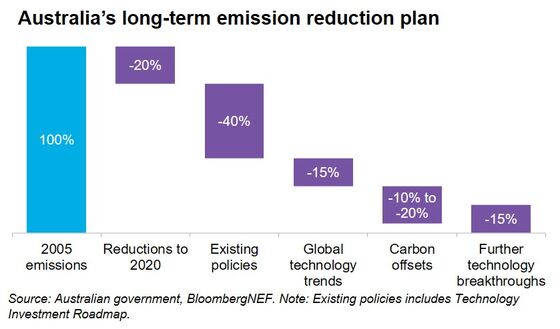 As COP Debates, Coal Dominates (9:29 a.m.)
While COP negotiators talk coal, here's a reminder of just how much of the black stuff the world still burns. It continues to dominate the world's total electricity generation mix by a large margin. There are still more new coal plants being built than old ones switching off, and the International Energy Agency projects emissions from the power sector will reach a record in 2022 as coal-power use surges. Governments and utilities across the globe are willing to pay record sums for it just to keep the lights on.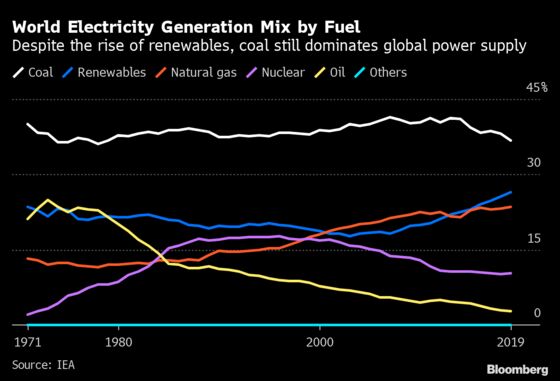 Methane Pushed in New Draft (8:36 a.m.)
The new draft puts a stronger focus on the need to cut methane emissions in order to keep alive the chance of limiting temperature rises to 1.5 degree Celsius. It mentions the potent greenhouse gas in paragraph 37 and invites parties "to consider further actions to reduce 2030 non-carbon dioxide greenhouse gas emissions, including methane."
Paragraph 22 previously stated the importance of halving greenhouse gases to cap warming at 1.5 degree Celsius. The new text also adds there's a need for "deep reductions in non-carbon dioxide greenhouse gases."
This follows more than 100 countries signing up to the Global Methane Pledge that aims to collectively cut global emissions of the super-warming gas by 30% by 2030.
Latest Draft of Text Published (8:14 a.m.)
A new draft of the a climate pact being debated at COP26 talks in Glasgow on Friday maintains most of the key elements climate-watchers were looking for -- though with some tweaks.
The latest draft, which was negotiated overnight now "requests" countries to come back with better climate-action plans for 2030 by next year, instead of being "urged" to. It also allows for "different national circumstances," which is seen as a kind of get-out clause.
The text slightly weakens language on asking for a phase-out of fossil fuels subsidies and coal. It now calls for the phase-out of "unabated" coal power and of "inefficient" subsidies for fossil fuels. That line has faced pushback, and many climate-watchers were expecting it to be axed by now. 
In positive news for developing countries, there's a call for rich nations to double the amount of money -- by 2025 -- they spend helping poor countries adapt to climate change.
Germany Prepared If Talks Run Past Friday (6:30 a.m.)
Germany is already preparing in case the conference misses the deadline of 6 p.m. local time Friday for a final agreement, according to the head of the nation's delegation, Jochen Flasbarth.
"I'm planning on leaving here tomorrow, but we have already taken precautions in case it goes longer," Flasbarth, a deputy environment minister, said early Friday in an interview with Deutschlandfunk radio.
"Above all, we have to agree on the final legal rules, otherwise the next few years will be very difficult in terms of implementing the Paris Accord," he said. Outstanding issues that still need to be resolved include the exit from coal power, he added. An agreement between the U.S. and China to cooperate on climate this decade is the main achievement from the summit so far, Flasbarth said.
What's Left to Achieve on the Summit's Final Day 
It's the last scheduled day of COP26, though it's likely talks will extend into the weekend. Here's a look at what's left to achieve in Glasgow: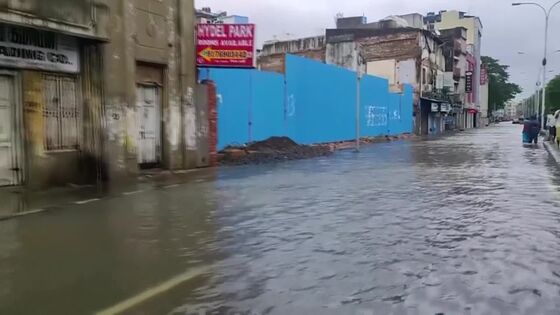 Stay Updated With
Tech News
On BloombergQuint