JPMorgan, Goldman Pick S&P 500 Sector Change Winners, Losers
(Bloomberg) -- The sector changes coming to the S&P 500 today mean big changes for quantitative portfolios, even if the stocks' fundamentals haven't changed, according to JPMorgan Chase & Co.
Two-way turnover linked to the reclassification could total around $100 billion, according to a JPMorgan estimate outlined in a Sept. 24 note from strategists led by Dubravko Lakos-Bujas that uses a standard equity quantitative model.
The changes to the Global Industry Classification Standard, which will see the telecom-services sector broadened and renamed communication services, are being implemented for S&P indexes Monday. They will come into effect for MSCI indexes in November.
Rebalancing is likely to drive incremental flows into companies including Discovery Inc., CBS Corp. and Google parent Alphabet Inc., while stocks like Juniper Networks Inc. and HP Inc. are probably going to see outflows, according to the JPMorgan model.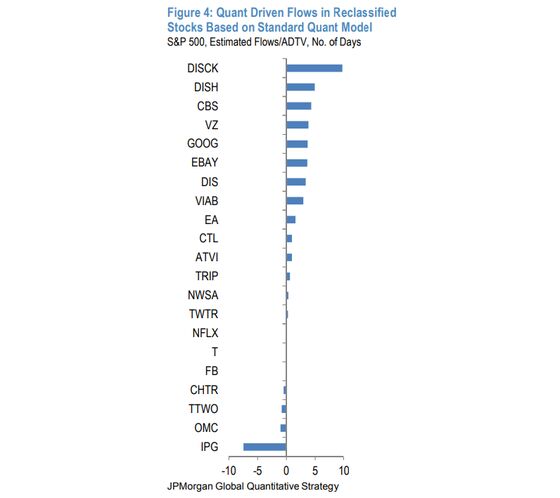 Hedge funds' current tilt toward information-technology will become a substantial underweight and the new communication-services sector will offer growth at a reasonable valuation, Goldman Sachs Group Inc. strategists led by David Kostin wrote in a Sept. 21 note. The sector-classification changes are unlikely to affect the fundamental views of fund managers, they added.
"Following the reshuffling, info tech's net weight in hedge fund portfolios will fall to 18 percent, or a 188 bp underweight," the Goldman strategists wrote. "Hedge funds are currently underweight telecom services, but will be 138 basis points overweight the new Comm Services sector. Following the inclusion of large overweight positions such as GOOGL and ATVI, large-cap mutual funds will be 109 bp overweight comm services in aggregate. Mutual funds will remain overweight the info tech and consumer discretionary sectors."
Quantitative rebalancing may cause further outflows in the reduced new tech and discretionary sectors, while the industrials and health-care sectors may benefit, the JPMorgan strategists said.