JD Founder Struggles to Calm Investors After Slowdown, Arrest
(Bloomberg) -- JD.com Inc. founder Richard Liu is struggling to reassure investors of his e-commerce giant's prospects amid rising competition and a global trade war, even as U.S. prosecutors mull whether to charge him over rape allegations.
JD's ADRs slid 8.4 percent in U.S. trading to the lowest in more than two years after a disappointing earnings report and Liu's first investor conference call since his arrest in the U.S. The company on Monday reported lower-than-projected revenue and its first sequential fall in annual active customers since listing.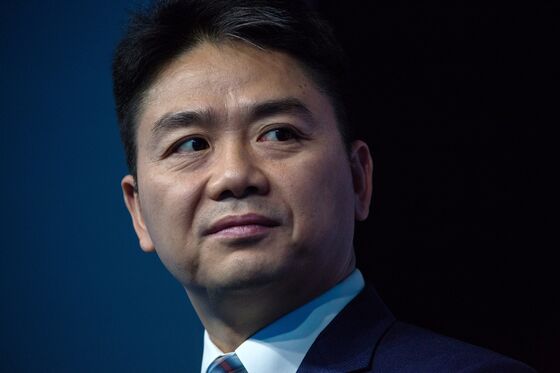 Liu said on the call he will shift his focus to concentrate on new businesses and strategy while letting his subordinates handle mature operations at China's second-largest e-commerce company. Sales for the third quarter reached 104.8 billion yuan ($15.1 billion) compared with the 105.7 billion yuan average of analysts' estimates.
"For me personally, I will focus more on new businesses," Liu said through a translator. He later added that strategy, culture and teams would be his other three key priorities. "For mature businesses, our team can handle that."
Liu has denied any wrongdoing after the arrest, but authorities are still deliberating whether to charge him with a crime. He didn't speak about the rape allegations, nor did he suggest any management change was related to the accusations. Chief Financial Officer Sidney Huang fielded the only question on that issue, and claimed it was not expected to have a material impact on the business and declined to comment further.
In a note to clients before the earnings, CICC analyst Natalie Wu said, "Key person risk should linger until the dust settles with investigators reaching a conclusion." Nomura analysts including Jialong Shi downgraded shares to neutral from buy after the earnings report due to what they called a "gloomy outlook."
Liu's team faces a tough challenge as established rival Alibaba Group Holding Ltd. and popular newcomers like Pinduoduo Inc. fight to win growth and market share. The number of customers who bought products or services on JD over the past 12 months, a statistic referred to as "annual active customers," fell by 8.6 million between June and September to 305.2 million – the first decline at the company since it listed shares in New York in 2014.
Further evidence of the slowdown was seen in the company's guidance – it predicted sales during the current quarter of 130 billion yuan to 135 billion yuan, the midpoint of which is about 1.4 percent below the 134.3 billion yuan that analysts had expected.
And while net income for the quarter jumped to 3 billion yuan, from 1 billion yuan a year earlier, that included fair value changes of 3.6 billion yuan. That mainly represented gains on its stake in luxury marketplace Farfetch, which had an $855 million IPO in September.
"The expending investment may cloud JD Mall's operating profit margin in 2H18. Meanwhile, investment in JD logistics and talents recruitment should continue as well," CICC analyst Natalie Wu said in a note to clients before the earnings. "We see high chances for margin pressure to continue into 2019."
But Liu insisted that 2018 had been a year of investment with improvements coming beginning next year.
"Next year our net profitability position will be better than this year," he said. "In terms of customer growth, we will grow faster than the industrial average and gain more market share."