IZettle's Evening Sale to PayPal a $2.2 Billion Change of Heart
(Bloomberg) -- iZettle AB finalized its deal to be bought by PayPal Holdings Inc. for $2.2 billion the evening before the Swedish fintech startup was set to price its shares in an initial public offering.
It looked like an abrupt about-face for the company, which competes with Square Inc. and Canada's Shopify Inc. On May 8 it announced it was seeking to raise 2 billion kronor ($226.6 million) in an initial public offering to be completed this year. Yet just days later, it's been bought by a U.S. competitor.
Square shares fell as much as 3 percent as the market opened in New York Friday, but at 10:12 a.m. in New York were up less than 1 percent.
The decision from iZettle comes just over a month after Spotify became arguably Europe's largest startup to refuse to sell up to a U.S. or Asian investor, listing on the New York Stock Exchange for about $27 billion.
"IZettle's goal was to go for an IPO, there was no real dual track," said Johan Brenner, general partner at Creandum, an investor in iZettle. "The PayPal discussion became concrete extremely late and was only a done deal late last night."
IZettle had been planning to price shares for its IPO Friday, according to a person with direct knowledge of the deal who did not want to be named discussing a private negotiation. PayPal made a last minute approach the person said, who asked not to be named discussing a private negotiation, adding that there was no sale process or auction.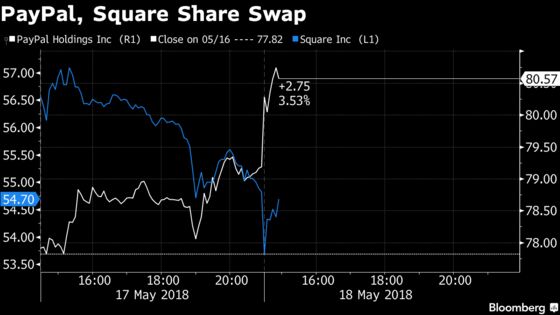 IZettle Chief Executive Officer Jacob de Geer on May 8 said the company was "fully focused" on the IPO plan announced that morning.
In an interview on Thursday, de Geer said that he changed his mind after meeting with the executive team at PayPal. He was convinced that his company could continue to grow substantially under the new owner and that their cultures would be aligned.
IZettle has been previously open to a sale as an alternative to an initial public offering, Bloomberg reported in December.
Russ Shaw, founder of Global Tech Advocates, an industry body, said PayPal's acquisition can be seen in two ways: that it's a validation of global tech players paying increasing attention to European scale-ups, but also that it's another example of a European tech company failing to scale significantly beyond becoming a "unicorn" worth a billion dollars.
"Five years ago people used to ask me if European tech would ever produce a successful exit or billion-dollar valuation," he said. "In that light, iZettle's acquisition needs to be applauded. However, our collective ambition has grown and we want an ecosystem that can produce tech firms with $10 billion or $50 billion valuations."
The $2.2 billion PayPal is putting up for iZettle is the San Jose, California-based company's biggest ever deal, according to data compiled by Bloomberg. JPMorgan Chase & Co. was sole financial adviser to iZettle, while PayPal worked with Evercore Inc.
Founded in 2010 by de Geer and Magnus Nilsson, iZettle started out with a mobile-phone gadget for accepting credit card payments. It has since expanded into software and financing services to support small businesses. The company operates in 12 markets in Europe and Latin America and was valued at about $500 million in January 2017.
PayPal suffered a blow in February when long-time partner EBay Inc. decided to shift its payments business to Adyen BV, a global payments company based in the Netherlands. Adyen is also said to be considering an IPO this year.
"The acquisition of iZettle confirms a PayPal strategy of further expansion into the physical payments market in a bid to not only better compete, but to also remain relevant," said Phil Sealy, principal analyst at ABI Research.
Sealy said PayPal's huge presence within the online payments market isn't mirrored among small and medium-sized businesses -- a market now dominated by fast-growing players including iZettle and Square.
"It's an area it's not as well known for," he said. "The acquisition will provide PayPal an increased foothold in the European proximity payments market."
De Geer will continue to lead the business, and the company will maintain its Stockholm headquarters -- an office located in the center of the city and in the heart of the banking and shopping district.