Investors Hope Trade Deals Are in G-20's Plan: Taking Stock
(Bloomberg) -- As Argentina deals with airline, subway and bus strikes, Buenos Aires is preparing to host the G-20 summit beginning Thursday in the aftermath of soccer fan violence. While River Plate and Boca Juniors supporters are wishing a lot of bad things on each other and waiting for the cancelled game to be rescheduled, investors are bracing for trade talks among the world's top leaders.
The summit is likely to be a key one for risk assets, according to Edward Park, deputy chief investment officer at Brooks Macdonald, a London-based firm with more than 10 billion pounds in assets under management.
Park sees the recent escalation in U.S. trade rhetoric towards China as part of the "maximum pressure" doctrine that President Donald Trump has been using in negotiations since the beginning of his presidency, citing the build-up to other deals such as United States-Mexico-Canada Agreement and an accord with North Korea as examples. After his party lost control of the House of Representatives in the midterm elections, the U.S. president will be keen to secure a big win and any progress in the negotiations is likely to have a positive impact on both Chinese and European manufacturing sectors.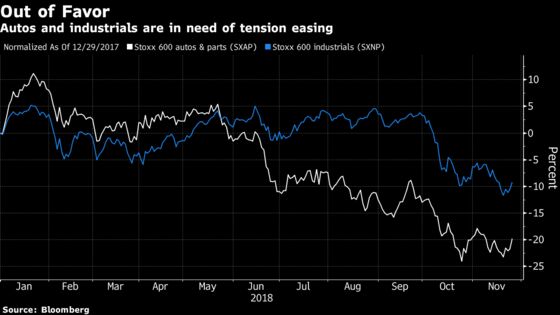 European industrials are still down 12% since the end of September after an aggressive sell-off, while autos & parts has been the European sector most affected by trade tensions.
The deputy CIO believes that both parties have an interest in orchestrating a ceasefire. "China does not want escalating protectionism as it would have to abandon its economic realignment, while Trump does not want to be battling inflation in the U.S., with the monetary tightening it would probably provoke, when entering the 2020 election campaign," Park wrote.
Indeed, the other major event this Thursday will be the FOMC minutes. Recent dovish comments from Federal Reserve Chairman Jerome Powell have hinted at a pause in rising interest rates. Some further details about the Fed's position about inflation will likely be as crucial as a smooth G-20 summit for financial markets. The Euro Stoxx 50 futures are down 0.2% ahead of the open, with mixed markets in Asia and U.S. futures lower.
Watch U.K. stocks as Theresa May kicks off a two-week campaign to get a skeptical Parliament to back her Brexit deal. Trump described it as "great deal for the EU," and said it could jeopardize a trade agreement with the U.S.
Watch sectors most impacted by trade tensions, particularly technology firms and Apple suppliers, as Trump said he'll likely push forward with plans to increase tariffs imposed on $200 billion worth of Chinese goods, and suggested a 10 percent tariff could be placed on mobile phones, like Apple's iPhones, which are made in China. Apple suppliers include Dialog Semiconductor, STMicroelectronics, AMS and Infineon. Trade tensions impacted sectors include automakers, auto parts, miners, steelmakers, oil & gas firms and the semiconductor sub-sector.
Watch Italy bonds and Italian stocks as following reports Italy's government is heading towards trimming its 2019 budget deficit target to appease the European Commission. As always, banks UBI Banca, UniCredit, Intesa Sanpaolo and Mediobanca are to keep a eye on.
"So while the Fed will note that implied inflation expectations have dipped below 2%, mainly on the oil price slump, is it really going to take its foot off the brake pedal as investors increasingly seem to think?" Societe Generale strategist Albert Edwards writes in a note to clients. "Forward guidance at the December Fed meeting could prove crucial in determining whether the current equity correction turns into a slump."
CaixaBank raised its profitability targets for the next three years as Spain's economy continues to grow and the prospect of higher interest rates promises to lift bank earnings.
European private equity firm Charterhouse Capital Partners is in talks to sell its stake in the Comexposium exhibitions business to Credit Agricole's insurance division.
Top investment banker Marcus Schenck, a contender to run Deutsche Bank until his departure in a shakeup this year, is charting a comeback at Perella Weinberg Partners, an underdog in European deals.
EQT Real Estate Makes SEK2.8b Offer for Stendorren
AccorHotels Sets Target to Double Ebitda by 2022
KWS Saat First Quarter Ebit Loss EU34.3 Mln
Evry Targets Dividend ~60% of Adj. Net, Ebita Margin 13.5-14.5%
Novartis's Sandoz Gets EC Approval for Biosimilar Ziextenzo
Vopak Says 2017-2019 Strategy Execution Is 'Well on Track'
Novartis Expects Alcon to Pay Regular Cash Dividend From 2020
Fintech Group, Austrian Post Withdraw From Planned JV
Seadrill Third Quarter Revenue $249 Mln
EU May Ask Alstom, Siemens for Larger Concessions: FT
Vallourec Sees Ebitda Rising in 2019, Capex to Remain Limited
AccorHotels Sets Target to Double Ebitda by 2022
Thomas Cook Sees FY Result ~GBP30m Lower Than Previously Guided
Shaftesbury Full Year EPRA Net Asset Value Per Share 9.91p
De La Rue First Half Revenue GBP257.6 Mln
Pets At Home First Half Like-for-like Sales +5.3%
Pennon First Half Adjusted Pretax Profit GBP142.5 Mln
Greggs Says LFL Sales Ahead of Expectations, Costs Under Control
Topps Tiles LFL Sales Fall 1.9% in First Eight Weeks of FY19
Sistema 3Q Adj Oibda 73.57 Bln Rubles Vs. 56.73 Bln Rubles Y/Y
NOTES FROM THE SELL SIDE:
Morgan Stanley is upgrading KBC and downgrading Credit Suisse. The firm looks for structural resilience to a downturn and dividend underpin ahead of next year. KBC is raised to overweight from equal-weight, thereby joining overweight-rated CaixaBank, Credit Agricole, HSBC and Santander. Credit Suisse is cut to equal-weight from overweight. MS cites the potential for rate hikes as the big catalyst for bank.
Lampe believes the market reaction on Fresenius Medical Care's guidance revision in October was "far too strong," which has created a "once in a decade" chance for investors. The broker upgrades the stock to buy from hold while reducing the PT to EU82 from EU88.
RBC prefers Iberdrola among Iberian utilities and upgrades the shares to outperform. The level of cuts for potential regulatory returns at Iberian utilities remain significant and the sector looks fully priced at present, RBC analysts write in a note.
TECHNICAL OUTLOOK for Stoxx 600 index:
Resistance at 365.1 (38.2% Fibo); 367.8 (50-DMA)
Support at 353.1 (50% Fibo; 341.2 (61.8% Fibo)
RSI: 47
TECHNICAL OUTLOOK for Euro Stoxx 50 index:
Resistance at 3,194 (50% Fibo); 3,262 (March low)
Support at 3,072 (61.8% Fibo); 2,921 (76.4% Fibo)
RSI: 36.3
MAIN RESEARCH AND RATING CHANGES:
UPGRADES:
Altri upgraded to market perform at BBVA; PT 8.60 Euros
Atea upgraded to neutral at SpareBank; PT 110 Kroner
Concordia Maritime raised to buy at Kepler Cheuvreux
Do & Co upgraded to buy at Erste Group; PT 98 Euros
Ence upgraded to buy at Kepler Cheuvreux; PT 7.60 Euros
Euronav upgraded to buy at Kepler Cheuvreux; PT 14.50 Euros
Fresenius Medical upgraded to buy at Bankhaus Lampe
Hikma upgraded to buy at Jefferies; PT 20 Pounds
Iberdrola upgraded to outperform at RBC; PT 7.50 Euros
KBC Group raised to overweight at Morgan Stanley; PT 79.60 Euros
Nordex upgraded to reduce at AlphaValue
REC Silicon upgraded to neutral at SpareBank; PT 0.40 Krone
Rexel upgraded to neutral at Credit Suisse; PT 11.70 Euros
Siemens Gamesa raised to buy at Kepler Cheuvreux; PT 14.50 Euros
Vallourec Upgraded to Buy at BofAML
Aurubis downgraded to hold at DZ Bank; PT 50 Euros
Credit Suisse cut to equal-weight at Morgan Stanley
Enagas downgraded to underperform at RBC; PT 23 Euros
Geberit downgraded to neutral at Credit Suisse; PT 420 Francs
NMC Health cut to underperform at Jefferies; PT 29.40 Pounds
Snam downgraded to sector perform at RBC; PT 4.25 Euros
AURES Technologies rated new strong buy at Portzamparc
Air France-KLM reinstated neutral at Macquarie; PT 10.20 Euros
Ascential rated new equal-weight at Morgan Stanley
ConvaTec rated new underweight at Barclays; PT 1.50 Pounds
EDP rated new sector perform at RBC; PT 3.26 Euros
Etablissements Maurel et Prom new strong buy at Portzamparc
Hastings rated new equal-weight at Morgan Stanley
Neoen rated new neutral at JPMorgan; PT 19.50 Euros
Nyfosa rated new buy at SEB Equities; PT 50 Kronor
Per Aarsleff Holding rated new hold at SEB Equities
REN rated new underperform at RBC; PT 2 Euros
MSCI Asia Pacific up 0.4%, Nikkei 225 up 0.6%
S&P 500 up 1.6%, Dow up 1.5%, Nasdaq up 2.1%
Euro down 0% at $1.1328
Dollar Index down 0.01% at 97.07
Yen up 0.09% at 113.48
Brent down 0.5% at $60.2/bbl, WTI down 0.9% to $51.2/bbl
LME 3m Copper down 1% at $6125.5/MT
Gold spot down 0.1% at $1220.8/oz
US 10Yr yield little changed at 3.05%
MAIN MACRO DATA (all times CET):
10am: (IT) Nov. Manufacturing Confidence, est. 104, prior 104.9
10am: (IT) Nov. Consumer Confidence Index, est. 116, prior 116.6
10am: (IT) Nov. Economic Sentiment, prior 102.6
12pm: (UK) Nov. CBI Retailing Reported Sales, est. 10, prior 5
12pm: (UK) Nov. CBI Total Dist. Reported Sales, prior 17
1pm: (SP) Oct. Spain Budget Balance YTD, prior -13.2b