Investors Are Chilled Ahead of Bank Stress Tests: Taking Stock
(Bloomberg) -- Euro Stoxx 50 futures are 1.6 percent higher. Prospects of a Brexit deal within reach, as well U.S. President Donald Trump's willingness to reach a trade agreement with China at the G20 summit later this month, have helped European equities sustain their bounce. Asian stocks are again very strong and set for the biggest weekly rally since April 2016.
Apple Inc. posted results and investors didn't like them much, sending the stock down 6.5 percent in after-hours trading. The tech giant said it will end publication of iPhone unit sales and gave a disappointing holiday period forecast. Watch Apple suppliers Dialog Semiconductor Plc and STMicroelectronics NV, as well as the broader tech sector, which might be affected.
It is stress-test time again, with the European Banking Authority set to release the results after Friday's close. There is no pass or fail mark this time, so the focus will be on ratios and provisions. Morgan Stanley said the results may set the tone for individual banks' dividend or share buyback expectations. Deutsche Bank AG focused on non-performing loans and pointed out that due to the tests' starting point -- balance sheets as of end-2017 -- several "high-NPL banks" that have significantly reduced their bad loans through 2018 could be "excessively penalized." That's something investors should keep in mind when looking at test results for Commerzbank AG, AIB Group Plc or Intesa Sanpaolo SpA.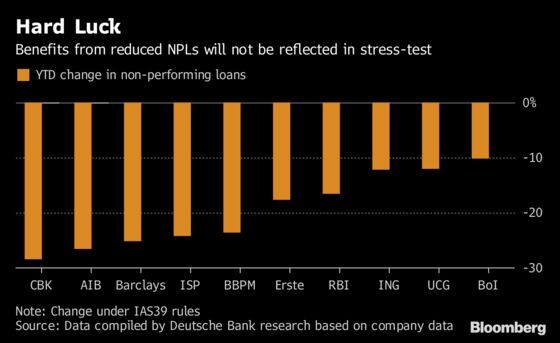 Staying with banks, activist hedge fund Hudson Executive Capital took its largest-ever long position on Deutsche Bank. The battered stock has been a common short bet in the past, so this may signal the start of a turnaround. As the shares were marking new lows, short interest dropped significantly in the past two months, falling to 4.6 percent from 7.6 percent of the float.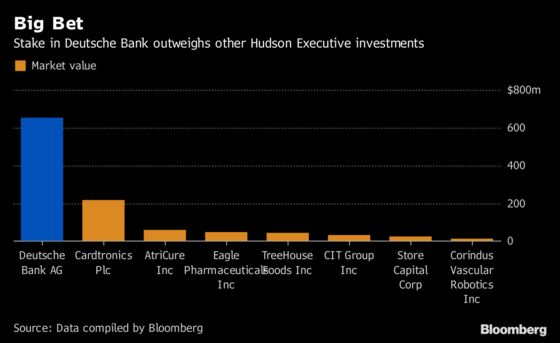 On a broader note, following one of the worst periods for outflows from European equities, large investors may need to see a real improvement in regional PMIs to start adding shares again. These will likely be among the data to consider before betting on an extended rally. During the week through Oct. 31., equities in developed Europe saw an additional $3.9 billion of outflows.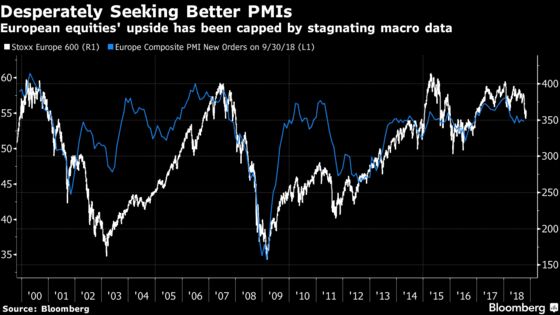 Elsewhere, steel and iron ore future sank in Asia as skepticism grew over the real impact on demand from Chinese stimulus. The effect on miners might be offset by stronger base metals this morning, while gold is little changed. Oil is steady below $64 a barrel after marking a six-month low, which is likely to add further pressure on oil companies. Italy's political situation remains on investors' minds, as JPMorgan Chase & Co. Chief Executive Officer Jamie Dimon raised concerns about a more severe crisis.
Finally a word on U.S. non-farm payrolls due Friday, after the ADP report showed higher-than-expected jobs growth earlier this week. Markets may not be particularly reactive to a change in job growth, given that October's data was probably distorted by hurricanes, so the focus will again be on average hourly earnings, according to analysts at Citigroup Inc. Good figures might raise the odds of a December rate hike.
"It is reassuring that topline growth is holding up at a high level in the U.S., and is accelerating in Europe," wrote JPMorgan equity strategist Mislav Matejka in a note to clients. "Investors are anxious about the outlook for corporate margins, but better topline should ease pressure on margins to do the heavy lifting. Sales growth running at high single-digit rate suggests that 10% projected EPS growth by consensus over the next quarters is quite achievable."
NOTES FROM THE SELL SIDE:
Lampe said that Santander's risks now appear more than reflected in the share price and upgraded the Spanish bank to buy from hold, with the PT unchanged at EU5. Following this week's 3Q results and recent weakness for the shares, the broker said 3Q EPS was above consensus on higher revenue and the Spanish lender's CET1 ratio remained below sector average.
Morgan Stanley raised ING to equal-weight, with risks around capital build and margin pressures appearing to moderate and consensus estimates now at a more realistic level. The bank increased estimates by 4%, and raised its PT by 8% to EU13.2 to reflect strong top-line and improved capital.
Erste Group raised its outlook for revenue growth and profitability as economies in Austria and eastern Europe are contributing to credit growth and low risk costs.
Helmut Schleweis lacks the name recognition of Paul Achleitner or Christian Sewing, but he could end up making an even bigger mark than the Deutsche Bank executives on Europe's largest banking industry.
Petoro AS, the company that manages the Norwegian government's massive stake in the country's oil and gas fields, is warning that the industry's costs could be rising for the first time since crude's collapse in 2014.
Barclays Plc hired a high-profile City dealmaker as its next chairman. Rothschild‎ & Co. deputy chairman Nigel Higgins will succeed John McFarlane, who's leaving after four years at the London-based bank.
Paddy Power Sees Full Year Adj Ebitda GBP465m To GBP480m
TP ICAP Buys Axiom Commodity Group for Initial $15.1m
Millennium & Copthorne Third Quarter Pretax Profit GBP34 Mln
Sage Group Names Steve Hare as CEO, Starts Process to Find CFO
Norwegian Air's Arctic Aviation Unit Sells Five A320neo Aircraft
Loomis Third Quarter Ebita 2.3% Above Estimates
Ultra Electronics Agrees to Sell Airport Systems for GBP22m
MCH Group Sees 2018 Results Impacted by Cost Reduction Plan
Senvion Cuts FY Rev Guidance to About EU1.6B From EU1.8-1.9B
Danske Is 'Truly Sorry' But Some Investors Still Won't Touch It
Van Lanschot Kempen 3Q Total Client Assets EU84.9 Bln
Brunel Third Quarter Ebit EU12.0 Mln
Induct Suspends Conversion Rights of Fund Due Suspected Breach
Leonteq Says Frey's Stake in Company Crossed 10% Threshold
ASR Nederland Seeks to Acquire APG Groep's Loyalis: Telegraaf
Archer Third Quarter Revenue $213.7 Mln
Corbion Nine Month Organic Revenue +2.8%
Comet Cuts FY Forecast on Order Decrease From Semiconductor Mkt
Comet Sees Full Year Sales CHF430 Mln To CHF440 Mln
BHP Sees EVs Matching Regular Auto Pricing in First Half 2020s
Host to Sell Interest in Europe Joint Venture for $505 million
BP Unit Wins Solar Contract to Supply Australia's Snowy Hydro
Getinge Doesn't Expect to Incur Costs Due to Balloon Pump Issue
Gateway Real Estate CEO Leaves, Company Cancels Share Placement
RBS Ringfence Gets Regulatory Permissions from Prudential RA
Dimon Concerned About Eurozone Break-Up Factors: Handelsblatt
IAG Boosts 5-Year Ebitdar Target, Op. Profit Goal Unchanged
TECHNICAL OUTLOOK for Stoxx 600 index:
Resistance at 365.1 (38.2% Fibo); 373.1 (DMA-50)
Support at 359.9 (January 2017 low); 353.1 (50% Fibo)
RSI: 47.3
TECHNICAL OUTLOOK for Euro Stoxx 50 index:
Resistance at 3,262 (March low); 3,274 (Sept. low)
Support at 3,194 (50% Fibo); 3,072 (61.8% Fibo)
RSI: 44.4
MAIN RESEARCH AND RATING CHANGES:
UPGRADES:
Axel Springer upgraded to buy at HSBC; PT 67 Euros
BAE upgraded to outperform at Credit Suisse; PT 6.40 Pounds
Banco Santander upgraded to buy at Bankhaus Lampe
Better Collective upgraded to buy at SEB Equities; PT 77 Kronor
Big Yellow Group upgraded to buy at Kempen & Co; PT 9.70 Pounds
DS Smith upgraded to buy at Vertical Research; PT 4.80 Pounds
Dialog Semi raised to outperform at Credit Suisse
Edenred upgraded to neutral at JPMorgan; PT 30 Euros
Hexagon upgraded to buy at DNB Markets; PT 540 Kronor
ING upgraded to equal-weight at Morgan Stanley; PT 13.20 Euros
Kering upgraded to outperform at RBC; Price Target 520 Euros
Pihlajalinna upgraded to buy at SEB Equities; PT 12.40 Euros
Smurfit Kappa upgraded to buy at Vertical Research; PT 35 Euros
Veolia upgraded to buy at Goldman; PT 22 Euros
Bilia cut to hold at Kepler Cheuvreux; Price Target 85 Kronor
Ceva Logistics cut to hold at HSBC; Price Target 30.70 Francs
Deutsche Post downgraded to hold at HSBC; PT 29 Euros
Kuehne + Nagel downgraded to hold at HSBC; PT 146 Francs
Panalpina downgraded to reduce at HSBC; PT 108 Francs
Wirecard downgraded to underperform at BofAML
MSCI Asia Pacific up 0.5%, Nikkei 225 up 2.6%
S&P 500 up 1.1%, Dow up 1.1%, Nasdaq up 1.8%
Euro up 0.12% at $1.1422
Dollar Index down 0.06% at 96.22
Yen down 0.27% at 113.02
Brent up 0.5% at $73.2/bbl, WTI up 0.1% to $63.8/bbl
LME 3m Copper up 2% at $6212/MT
Gold spot little changed at $1233.1/oz
US 10Yr yield up 4bps at 3.17%
MAIN MACRO DATA all times CET:
9:15am: (SP) Oct. Markit Spain Manufacturing PMI, est. 50.9, prior 51.4
9:45am: (IT) Oct. Markit/ADACI Italy Manufacturing PMI, est. 49.7, prior 50
9:50am: (FR) Oct. Markit France Manufacturing PMI, est. 51.2, prior 51.2
9:55am: (GE) Oct. Markit/BME Germany Manufacturing PMI, est. 52.3, prior 52.3
10am: (EC) Oct. Markit Eurozone Manufacturing PMI, est. 52.1, prior 52.1
10:30am: (UK) Oct. Markit/CIPS UK Construction PMI, est. 52, prior 52.1
6pm: (IT) Oct. New Car Registrations YoY, prior -25.37%