India's Smog Is So Bad It's Turning To Eco-Friendly Firecrackers
(Bloomberg) -- The smog is so bad in India the government is developing firecrackers that emit less pollution.
Scientists at the government-run Council of Scientific and Industrial Research institute have created pyrotechnic prototypes that emit about 30 percent less particulate matter, India's environment minister Harsh Vardhan said at a briefing Monday in New Delhi. Costs for consumers are estimated to be as much as 30 percent less than existing versions once commercialized.
"We are pursuing this aggressively with manufacturers," Vardhan said at the briefing.
But the eco-friendly firecrackers won't be ready in time for Diwali next week, the annual Hindu festival of lights, when millions of the pyrotechnics are set off exacerbating thick winter smog that envelopes New Delhi and numerous cities across the dusty and densely populated North Indian plains.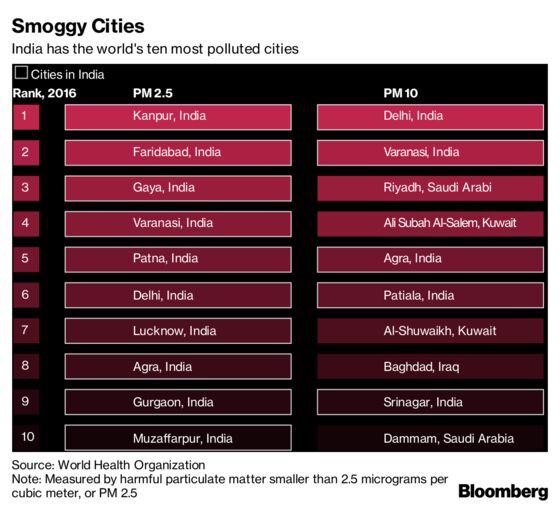 The South Asian nation is struggling with the world's most toxic air caused due to a combination of stubble burning in farms, firecrackers and weather conditions. However, the country's top court declined to ban the sale of the pyrotechnics across the country while imposing some restrictions on their purchase and use earlier this month.
The decision reverses last year's blanket ban on selling firecrackers in the capital, New Delhi, and nearby cities that activists had hoped would be extended across the country. 
Some of the prototype firecrackers eliminate potassium nitrate and sulfur which lowers sulfur dioxide and nitrogen oxides releases, according a statement from the research institute.
Parts of New Delhi recorded toxic PM 2.5 levels in the air at "hazardous" levels on Monday at as high as 785 micrograms per cubic meter at some locations, according to the U.S. Embassy's Air Quality Index. India accounted for 14 of the 30 worst-polluted cities in the world, as measured by PM 2.5, in WHO's 2016 rankings.