How Many People Does It Take to Develop Solar? Fewer and Fewer
(Bloomberg) -- Here's another sign the solar industry is maturing: it takes fewer people to get a megawatt of panels up and running.
The decline has been steep -- it took 23 people to manufacture, develop and install a megawatt of solar panels in the U.S. in 2017, down from 101 in 2010, according to a report Thursday by BloombergNEF. The changes are due in part to more automated factories, increasingly efficient panels and components that are easier to assemble in the field.
The result is something of a Catch-22 for the solar industry: while it's long promoted itself as a major American job creator, it's also keen to boost efficiencies to improve the bottom line. And greater efficiency can mean fewer jobs.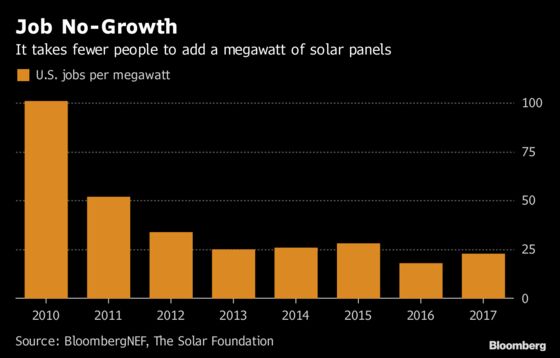 "It's a race between market growth and productivity gains," said Hugh Bromley, a New York-based analyst at BNEF. "If productivity gains are deeper than growth, the workforce will shrink."
There may be a silver lining for workers: as costs continue to fall, solar power becomes more appealing. That can boost the market and create more jobs. The U.S. Bureau of Labor Statistics projects that panel installer will be the fastest-growing occupation of the decade through 2026.