Green Power Fueled Price Drop Hurts Australia's Top Utilities
(Bloomberg) -- The headwinds facing traditional power generation companies the world over have been underlined by a tough first-half trading performance for AGL Energy Ltd., as the fast-declining price of renewables erodes the profitability of its coal fleet.
Australia's biggest electricity generator on Thursday reported a 27% drop in underlying profit for the six months to Dec. 31. Wholesale electricity prices had "decreased rapidly" to levels not seen since 2015 amid a surge of new grid-scale and rooftop renewable capacity, it said.
"We do anticipate these headwinds will absolutely roll into next year as well, that's just where the electricity market is right now," Damien Nicks, AGL's chief financial officer, said in a telephone interview. AGL's rival Origin Energy Ltd. is also struggling -- cutting its earnings forecast and saying it expected challenging operating conditions to continue in the year ahead.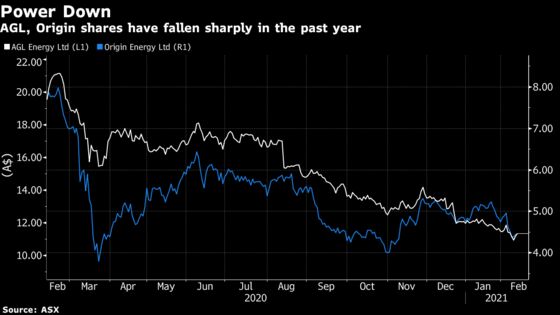 Nicks said AGL was aligned with the transition to a de-carbonized grid, with plans to install 850 megawatts worth of lithium-ion batteries that would help to back up the influx of new solar and wind power. Yet the bulk of AGL's generation still comes from coal, helping to make it the country's biggest single greenhouse gas emitter, and Nicks played down the idea that market dynamics might force early plant retirements.
"The market still needs those assets, and because they are the lowest cost and some of the better assets in the National Electricity Market, those assets will be needed for the longest," he said.
Even so, AGL Chief Operating Officer Markus Brokhof acknowledged in a presentation earlier on Thursday that the profitability of coal power stations was likely to come under pressure. That's due to a narrowing in the so-called dark spread -- a gauge of the difference between the price a generator receives for its electricity and the cost of coal needed to produce that power. AGL has an advantage over other coal generators thanks to its long-term competitively priced supply contracts, he said.
The Sydney-based company's Liddell coal plant will begin a phased closure in 2022, leaving it with two remaining coal facilities: Bayswater and Loy Yang A. Brokhof said his focus was on lowering costs at those plants, as well as looking at ways to reduce their minimum load so they can better respond to daytime demand troughs when rooftop solar generation is at its peak.
AGL said it was assessing its business model and capital structure in light of the tough trading environment, and would provide more details at an investor day in March. Meanwhile, Nicks is looking to cut costs by A$150 million ($116 million) and the company seeks to expand its offering to retail customers, including moving into new areas such as broadband and mobile.
Nicks said AGL would continue to underwrite new wind and solar projects, and had learned lessons after taking a A$1.9 billion impairment on "onerous" contracts to buy power from wind farms in deals made between 2006 and 2012. The company's renewables off-take contracts were now much shorter in duration, reflective of a market where technology costs continue to fall.