Global Autos Get a Boost From China Car Tariffs Cut: Street Wrap
(Bloomberg) -- European autos shares advanced and U.S. car stocks gained in pre-market trading after China said it will cut the import duty on passenger cars to 15 percent from the current 25 percent. Analysts see positive repercussions for automakers globally, with profits for German carmakers expected to rise.
Europe's Stoxx 600 Automobiles & Parts Index rose 1.1 percent as of 2:12 p.m. CET, the second best-performing sector on the broader gauge, with BMW AG rising 2.5 percent, Porsche Automobil Holding SE up 1.8 percent and Daimler AG gaining 1.6 percent. In the U.S., General Motors Co., Ford Motor Co. and Tesla Inc. were set to open higher.
BMW said that the reduction sends "a strong signal that China will continue to open up," and Volkswagen AG welcomed "further liberalization" of the Chinese auto market.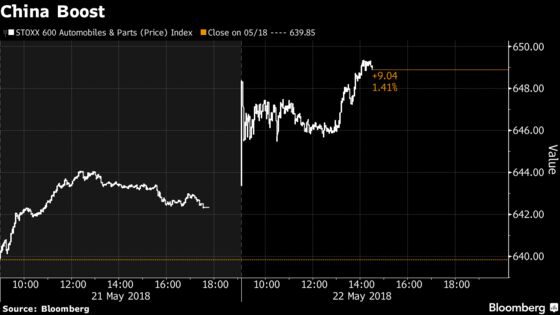 Evercore ISI, Arndt Ellinghorst
"This is the latest bout of good trade news out of China, and as we said previously, German OEMs will applaud the decision given their volume of imports to China," Ellinghorst wrote in a note.
Estimates positive Ebit effect of EU1.2b for BMW, EU1.1b for Daimler and EU750m for VW.

Bloomberg Intelligence, Michael Dean
Despite pricing pressures, China likely remains the most profitable global export market for German automakers. BMW and Mercedes have both made the U.S. their SUV manufacturing global hub, and reducing the China import tariff to 15% would bolster an estimated EU7b of sales, with an EU700m reduction in tariffs that can be passed onto customers or boost earnings.
Bankhaus Metzler, Juergen Pieper
"Of course this is good news," Pieper said in e-mailed comments. He estimates that the impact won't be on volumes but prices/margins. Assuming that BMW and the other carmakers give 70% of the duty cuts to customers via price reductions, margins for the imported models, usually the priciest in the German carmakers' range, would rise significantly.
Projected operating earnings for BMW would go up by 3%, VW's by 2.5% and Daimler's by 2% "at least."