Germany Taps Hydrogen Subsidies in Race to Replace Fossil Fuel
(Bloomberg) -- Germans are preparing to throw the weight of Europe's biggest economy behind a plan to replace fossil fuels with the universe's lightest element.
Hydrogen production could be subsidized under a new German plan to fill in the energy gaps left by the country's impending exit from coal and nuclear power, according to an Economy Ministry draft report seen by Bloomberg. Officials have tapped clean-burning hydrogen as the new oil to fuel transport, heating and industry.
"We will now set the course for Germany to secure its global pioneering position in hydrogen technologies," said the 21-page report circulated to other members of Chancellor Angela Merkel's coalition government. Ministries can now comment on the draft.
Germany wants to raise production of the element using electrolysis to as much as 5 gigawatts from less than 1 gigawatt at present in order to have a fifth of hydrogen consumption via renewable resources by 2030, according to the draft. The strategy aims to dramatically reduce the cost of producing hydrogen so that it becomes economic for industries including steelmakers and heavy transport.
The new electrolysis subsidy would encourage producers making hydrogen from natural gas to adopt techniques that don't require fossil fuel inputs. The country furthermore wants to boost its hydrogen filling station network, according to the draft.
Electrolysis has emerged as an important technology in Germany's industrial pivot toward greener forms of production. The process sends an electric current through water to split hydrogen atoms from oxygen and can be powered entirely by renewable power sources like solar and wind. That method of producing so-called green hydrogen may determine whether Germany reaches Merkel's ambitious goal of halving carbon dioxide emissions by 2030 compared with 1990 levels.
"With the right regulatory framework, it is possible to enhance hydrogen production and electrolyser capacity. That is the first step for a needed economical viability," said Kerstin Andreae, chairwoman of the general executive management board at BDEW, Germany's utilities lobby group. "The measures to be included in Germany's hydrogen strategy are very important for the development of the market."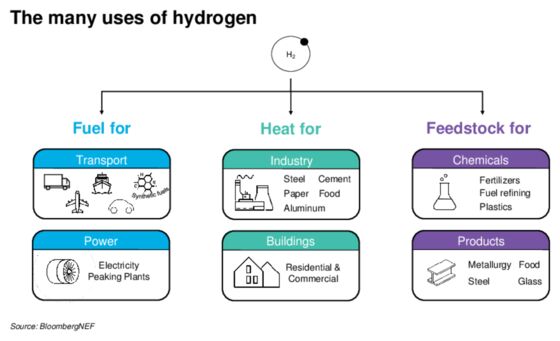 The government assumes Germany won't be able to produce enough carbon-free hydrogen in order to meet its future demand. The country's strategy also includes building up partnerships with other countries for the development of that market.
"What petroleum means today as an energy source will be hydrogen in the future," Michael Meister, parliamentary state secretary to Germany's Minister of Education and Research, said in November. "Germany wants to start the race for its use and the development of technology."