Germany Paid Record $38 Billion for Green Power Growth in 2020
(Bloomberg) -- Germany paid a record sum to foster green electricity last year as new wind, solar and biomass plants weathered the worst of the coronavirus crisis afflicting other sections of the economy.
The rising costs of supporting renewables has become a friction point as the nation struggles with Covid-19. The subsidy is paid directly by consumers in electricity bills, helping make German retail power costs the highest across the European continent.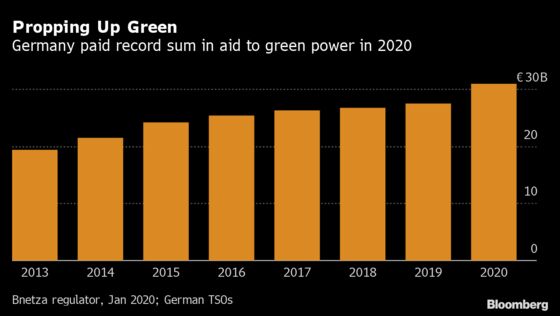 The money channeled to green energy rose to almost 31 billion euros ($38 billion) in 2020, a 13% jump from a year earlier, according to data published Tuesday by the nation's grid operators. Green power's share of Germany's energy mix rose to 46% last year from about 43% in 2019.
Over the next two years, the government plans to slice a third off the costs that consumers pay by using some of the nation's budget to share the burden. Cross-party consensus is emerging in parliament and among lobbies such as the BDI industry group that the current green funding regime can't be sustained this decade.
The costs of the subsidy, known as Renewable Energy Law aid, are expected to peak in 2022-2023 before stabilizing. Germany switched to auctions to expand wind and solar capacity in 2017, abandoning the system of guaranteed remuneration rates, or feed-in tariffs, for all new renewables projects in a bid to tame the rising expense.