German-French Power Spread Soars Ahead of Winter Season
(Bloomberg) -- Traders betting that cooler weather will boost electricity demand for heating have driven a key spread between power prices in France and Germany to the widest levels in five years.
Wholesale electricity in France for delivery next month climbed to a premium of more than 40 euros a megawatt-hour above a similar contract for Germany on Monday, according to European Energy Exchange AG prices. That's more than triple the 10-year seasonal average, broker data show. The spread widened to as much as 47 euros last week.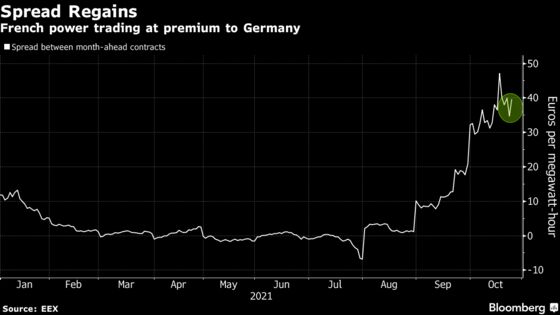 The spread highlights the differences in energy markets across Europe. France, which relies on nuclear plants for most of its power, uses more electricity for heating than Germany where natural gas plays a bigger role in keeping homes warm. France also has fewer wind farms than Germany, where gusty weather can help drive down generation costs. 
"In France there is loads of electrical heating, meaning that when it's cold, demand goes very high, much higher than in Germany," said Emeric de Vigan, chief executive officer of energy analysis firm COR-e. "On the other hand, the market knows there will be windy days in Germany, when prices will be low there."
The weather forecast for next week turned cooler, with close to normal temperatures now expected compared with previous expectations of much milder conditions. 
French power for next month added as much as 3.2% to 230 euros per megawatt-hour on Monday, while the German equivalent reversed rose 1% to 190 euros. 
The German contract for next year, a benchmark for Europe, rose as much as 2.2% to 125.20 euros, after losing 7.4% last week. It followed prices for coal, gas and carbon, which all rose. 
MARKET STORIES 
EUROPEAN POWER AUCTIONS: German Spot for Tuesday Increases
European Gas Jumps Most in a Week as Russian Supplies Slump
SSAB May Go Fossil Free Sooner on High Demand for Green Steel
Power Flow Flips to France from Germany; Spark Spread Snapshot
Stay Updated With
Tech News
On BloombergQuint