Detroit Has Had It With Cars
(Bloomberg Opinion) -- Americans don't buy cars anymore. They buy SUVs and pickups.
OK, that isn't strictly true: Sedans, station wagons, hatchbacks and the like were selling at a 5.5 million-vehicle annual rate in October. But that's half the pace of three decades ago. The U.S. motor vehicle market has come to be dominated by sport utility vehicles and pickups to an extent never before seen.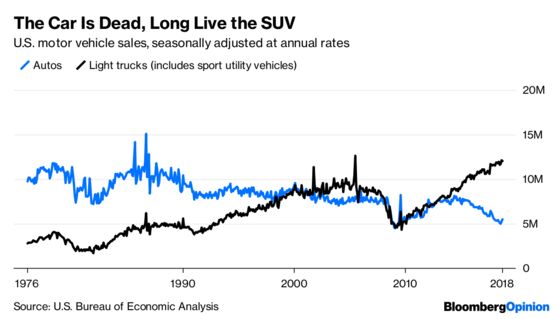 This is context for today's announcement from General Motors Co. that it will lay off 10,000 U.S. workers and close five plants. Part of what's going on is a big cutback in production of sedans and such, with the Buick LaCrosse, Chevrolet Impala and Cadillac CT6 sedans and the Chevy Volt plug-in hybrid all to be discontinued, while the Chevy Cruze compact will be made in Mexico for other markets. Earlier this year, Ford Motor Co. announced that it was ditching the Fusion and Taurus, while Fiat Chrysler Automobiles NV started things off in 2016 by shutting down production of the Chrysler 200 and Dodge Dart in order to focus on Dodge pickups and Jeep SUVs.
It's enough to lead a person to wonder what will happen the next time gasoline prices spike and make fuel efficiency a priority again — which, when it occurred amid a brutal recession in 2008 and 2009, left two of Detroit's Big Three bankrupt. U.S. automakers seem to be betting that (1) with the spectacular resurgence in domestic oil production, a gas price spike won't happen again for a while and (2) maybe when it does they'll have a big enough assortment of electric vehicles on offer ("GM now intends to prioritize future vehicle investments in its next-generation battery-electric architectures," the company said in its announcement) to keep everybody from switching to Honda and Toyota. I wouldn't say they're wrong to think that. But they're definitely making a bet.
This column does not necessarily reflect the opinion of the editorial board or Bloomberg LP and its owners.
Justin Fox is a Bloomberg Opinion columnist covering business. He was the editorial director of Harvard Business Review and wrote for Time, Fortune and American Banker. He is the author of "The Myth of the Rational Market."