GameStop's Boom Briefly Vaults Stock to Top of Russell 2000
(Bloomberg) -- GameStop Corp.'s epic surge that burned short sellers fueled by an army of day traders briefly made the video-game retailer the biggest company in the Russell 2000 Index.
Despite the several restrictions to curtail trading with the high-flying stock, GameStop climbed as much as 39% to $483 at 10 a.m. in New York Thursday, extending this year's rally to more than 2,000%. Its peak market value of $33.7 billion is a far cry from the end of 2020, when the company was worth $1.3 billion. GameStop momentarily topped Plug Power Inc., a hydrogen fuel-cell maker, in the gauge of small caps and is now bigger than more than half of the companies in the S&P 500 Index.
Day traders have taken to platforms including Reddit to tout stocks such as GameStop, encouraging others to join the buying frenzy that's hammered short sellers. Robinhood restricted transactions on those stocks and others, according to a blog post. Interactive Brokers said it wouldn't allow clients to take new options positions in names including GameStop, AMC Entertainment Holdings Inc. and BlackBerry Ltd.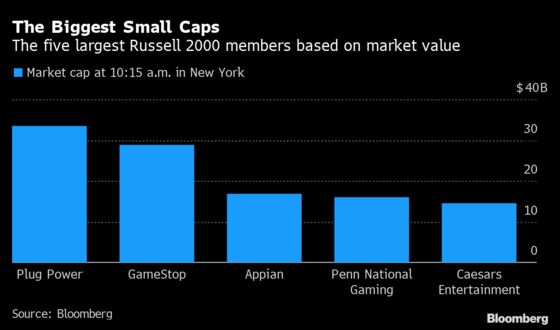 While the euphoria for traders using services like Robinhood and r/wallstreetbets has captivated Wall Street, the rally in GameStop and other stocks has prompted warnings from analysts and drawn attention from regulators. The U.S. Securities Exchange and Commission said it's "actively monitoring" volatility in options and equity markets.
"The rules of trading have changed long-term versus short-term," said Ihor Dusaniwsky, managing director of predictive analysis at S3 Partners. "People keep applying value-based fundamental investing to this short-term trading, and right now, for a short-term time horizon, this doesn't work. Short-term, this is now a momentum market."
The recent trading frenzy shows the unintended consequences of regulatory changes put in after the last financial crisis, including rules on disclosure of short positions, Anne Richards, chief executive officer of Fidelity International Ltd., said in a Bloomberg Television interview on Thursday.
GameStop's short interest currently stands at roughly 123% of its available shares, according to data from S3 Partners.
"It ends with insiders selling all of their shares at inflated prices and with GameStop closing close to my target," said Michael Pachter, an analyst at Wedbush Securities who had a price target of $16 for GameStop as of Jan. 11. "But that will take a bit of time. When insiders sell, the Reddit thesis blows up."