Fossil Fuel Giant Australia Has a Bumpy Road to Hit Net-Zero
(Bloomberg) -- From phasing out its coal-fired power plants to reducing the economy's reliance on fossil fuel exports, Australia faces substantial challenges to meet its target of net-zero greenhouse gas emissions by 2050. 
Technology, not taxes, will be key, Prime Minister Scott Morrison pledged Tuesday, seeking to placate those arguing tougher climate action will cost jobs in rural areas that rely on heavy-emitting industries such as coal mining. Morrison's critics were quick to point to a lack of detail in his roadmap.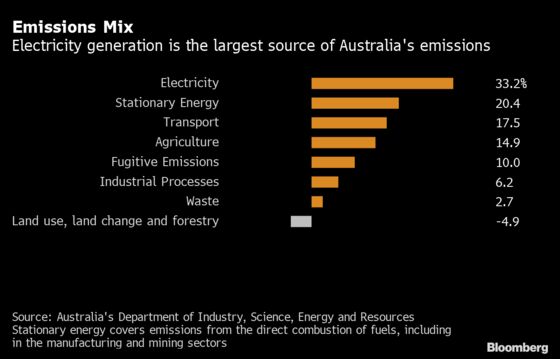 "Australia can reach net zero emissions by 2050," and take advantage of opportunities presented as traditional energy and export sectors are overhauled, said Prakash Sharma, Asia-Pacific head of markets and transitions at consultant Wood Mackenzie Ltd. "This will require Australia to become a significant player in low-carbon hydrogen trade as well as being able to offer carbon storage and offset services," Sharma said.
Here are some of the key issues Australia needs to confront.
The country's biggest source of emissions is electricity, which accounts for about a third of the total. Coal-fired power stations still make up about 60% of generation, although those aging plants are gradually being phased out. 
Plummeting costs of renewables means there's also been a rapid build out of solar and wind installations, and Australia's households lead the world in installing rooftop panels. Investments in larger, utility-scale renewables projects fell more than 70% in the first half, compared to the same period in 2018, reflecting caution from developers over the country's long-term policies, according to BloombergNEF.
Australia is one of the world's biggest exporters of fossil fuels -- mainly coal and natural gas -- and a decade of massive expansions in LNG production means it now rivals top supplier Qatar. Natural gas brought in A$36 billion ($27 billion) of export revenue in 2020, trailing only coal and iron ore.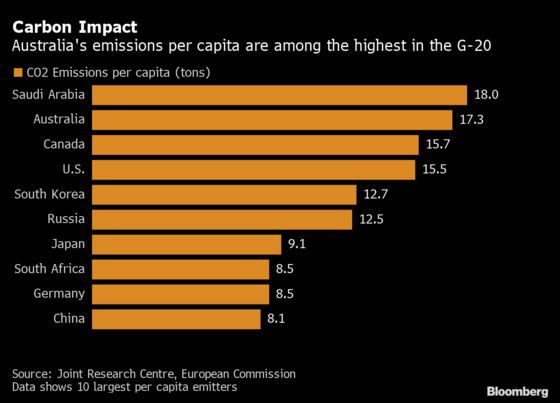 That's also led to sharp growth in so-called stationary energy emissions, or the release of greenhouse gases in activities like extracting coal, oil and gas. Prospects for curbs in that field look limited, especially with Morrison's government backing a "gas-fired recovery" to spur post-pandemic growth.
Morrison is aiming for carbon capture and storage technology to play a key role in mitigating emissions, though results from the technology have been mixed and Chevron Corp.'s Gorgon CCS project off Australia's northwest coast -- among the world's biggest -- went over time and over budget. 
Australians have been slow to give up gas guzzlers in favor of cleaner electric vehicles, meaning progress to reduce emissions from transportation could prove difficult. A lack of government incentives to make the switch has meant EVs remain prohibitively expensive for many, and has deterred manufacturers from offering a wider range of models.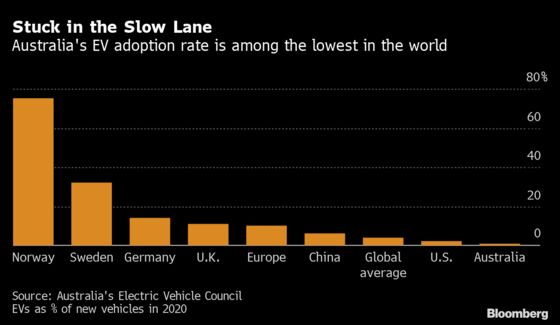 In industry, diesel-powered haulage trucks are still the norm across much of the country's giant mining sector, although companies including BHP Group and Rio Tinto Group are working with manufacturers to develop electric alternatives. 
Morrison's government, along with mining billionaire Andrew Forrest, are pinning their hopes on hydrogen as an enabler for emissions reduction across a wide range of industries, including heavy-duty transport.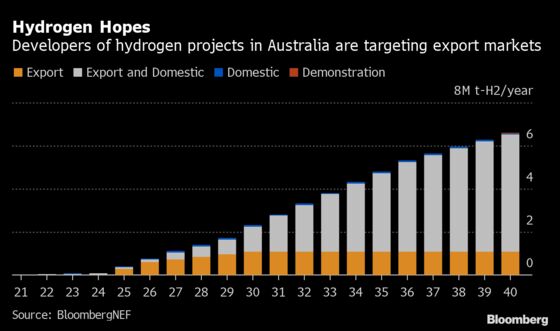 Forrest plans to build a plant in Queensland manufacturing electrolyzers for green hydrogen production, and is studying potential collaborations with fertilizer supplier Incitec Pivot Ltd. Gas and oil giant Woodside Petroleum Ltd. intends to construct a global-scale hydrogen and ammonia production facility in Western Australia.
Agriculture contributes about 15% of Australia's emissions, the bulk of which come from methane produced by livestock. Efforts to curb those greenhouse gases are focused on modifying the diet of cattle, while the sector is also deploying technology to improve the carbon capture potential of soil.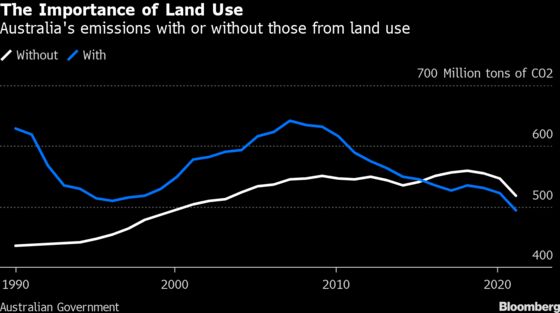 Australia's progress on emissions reductions is hard to compare directly with that of other nations, thanks to the so-called "Australia Clause" -- an article in the 1992 Kyoto Protocol on the reporting of emissions from land use, land clearing and forestry in national totals. Because of significant land clearing in the 1990s Australia's baseline on which cuts are calculated has been flattered. 
Stay Updated With
Tech News
On BloombergQuint