For Apple Supplier, Six-Day Stock Freeze Comes at the Wrong Time
(Bloomberg) -- If Apple Inc.'s latest iPhone release has market-moving potential, too bad for investors in one of its major suppliers.
Hon Hai Precision Industry Co. will halt its shares for six days to complete a reverse stock split from Thursday, the day before pre-orders open for the iPhone Xr. Taiwan's second-biggest listed company fell 2.7 percent in the week after Apple started taking orders for two other models last month.
"It's just too untimely," Taipei-based President Securities Co. analyst Terry Wu said. Investors are reading any sales numbers for clues for outlook of the company's profitability, he said.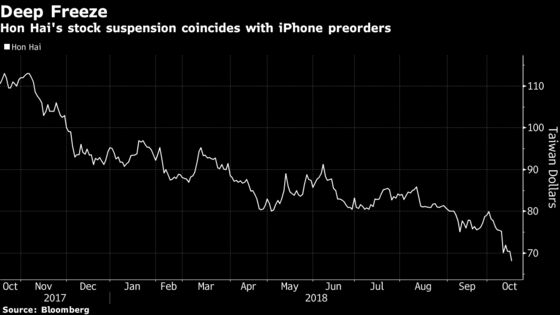 Hon Hai is planning a four-for-five reverse split and paying a NT$2 special dividend, in an effort to increase return on equity, the company said in May. While the suspension may seem long, it's not without precedent in Asia; Samsung Electronics Co., South Korea's biggest company, halted its shares for three working days at the end of April to do a split of its own.
And some long-term shareholders may view it as a respite. Hon Hai's stock is down 42 percent from a mid-2017 peak as slowing demand for iPhones squeezes profit margins, and the U.S.-China trade war is a source of concern for some traders.
"Hon Hai is caught in the middle, with its production base in China and supplying to an American brand," Concord Securities Co. assistant vice president Allan Lin said. Investors are worried that sales of Apple products in China could weaken should the tensions escalate, he said.