Fanuc Boosts Profit Outlook 24% Citing Electric-Car Demand
(Bloomberg) -- Fanuc Corp., the world's biggest maker of industrial robots, raised its annual profit forecast 24% and boosted its sales target by 6% citing demand from makers of electric vehicles.
Operating income will probably climb 20% to 105.8 billion yen ($1 billion) in the year ending March 31, the company said in a statement on Wednesday. Revenue is expected to grow 4.7% to 532.3 billion yen.
The Japanese supplier is commonly seen as a bellwether for industrial demand and credited customers in information technology along with EV makers buying factory automation equipment, robots and robo-machines for the increase in forecast. The auto industry, which was particularly hard-hit by the novel coronavirus outbreak last year, started showing signs of recovery in the fourth quarter that have translated into component supply shortages at the start of 2021.
Reason for EV optimism has also been provided by new U.S. President Joe Biden, who said he wanted to replace the federal government's vehicle fleet with electric cars and has signaled a much stronger commitment to combating climate change than his predecessor.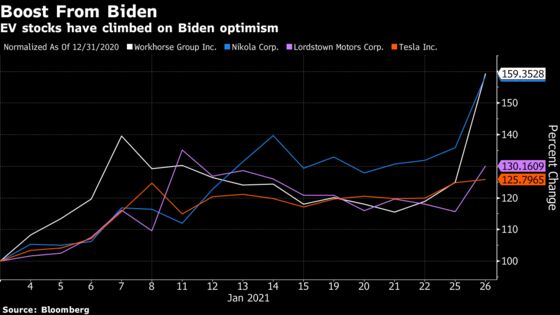 Fanuc's profit surged 68% in the three months ended in December as sales rose 15%, the company said. China was the biggest destination for its machines, accounting for 35% of the revenue. Sales in the country totaled 51 billion yen in the quarter, more than double the level in the same period a year ago. The factory robot supplier warned that its outlook may still be affected by the spread of Covid-19 and efforts to stop the pandemic.