Facebook's Long-Term Bull Trend Intact, Evercore Analyst Says
(Bloomberg) -- Facebook Inc.'s record-breaking plunge looks ugly today, but it still hasn't been enough to break the long-term bullish trend the shares have been in for years, according to Evercore ISI technical analyst Rich Ross.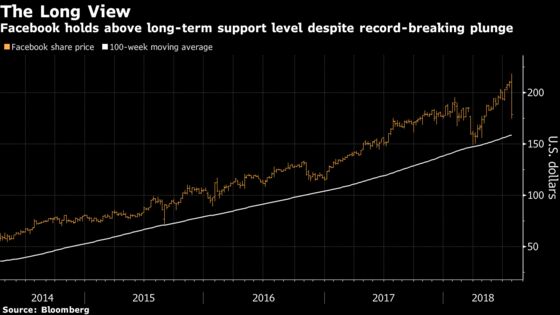 The shares tumbled as much as 19 percent on more than 10 times the average daily trading volume by midday after a disappointing growth forecast prompted at least three sell-side analyst downgrades. Ross advised investors to take advantage of the "flash summer sale," pointing out in a research note that Facebook remains above its 100-week moving average and has never closed below that level.
The long-term bull trend "remains intact" absent a close below the 100-week moving average of $159, Ross wrote.
Facebook shares traded for as little as $174.78 at the worst of today's plunge and were hovering around $178 at 12:30 p.m. in New York. With the strong bull trend, Ross said he sees the stock stabilizing between $173 and $180, and then resuming its ascent in coming weeks.