Facebook's Instagram Surprise Prompts More Doubts, Wall Street Says
(Bloomberg) -- Facebook Inc. investors woke up to another surprise this morning: Instagram co-founders Kevin Systrom and Mike Krieger are leaving the social-media giant amid disagreements with CEO Mark Zuckerberg, raising concerns over the future of the platform.
Shares fell as much as 2.6 percent at the open and are hovering around the lowest level since April, when the stock was rocked by a data breach scandal. Meanwhile, investors in peer Snap Inc. are taking advantage of Facebook's woes, sending shares up as much as 5.3 percent.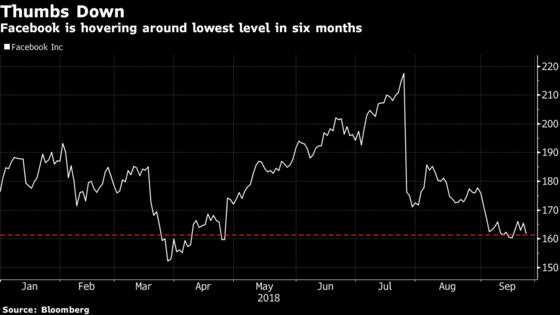 JPMorgan, tech analyst Douglas Anmuth
Says the departures come as a surprise given Instagram's success and its importance to Facebook; notes Instagram has played a key role in retaining younger users within Facebook platforms and in competing with Snap
Expects shares to see "meaningful pressure" in the near term; speculates the departures could be related to Facebook management "pushing Instagram hard for both user growth and monetization"
Projects ~$7.5 billion of revenue for Instagram this year, which represents ~14 percent of Facebook's ad revenue
Rates overweight, price target $195
Bloomberg Intelligence, Jitendra Waral and Sean Handrahan
Instagram is "key for offsetting Facebook's growth concerns" amid rising regulatory risks, so the resignations of the platform's co-founders raises uncertainty on the monetization timeline and execution
The departures may also drag on Facebook's near-term revenue-growth expectation
Sees possible margin compression at Facebook in the second half of the year as spending picks up on efforts to improve data quality and support its WhatsApp and Messenger platforms
Baird, tech analyst Colin Sebastian
Says there are plenty of precedents for founders leaving companies following acquisitions, and "in fact, the Instagram founders probably stayed longer than many others would have"
That said, Instagram has performed "remarkably well under their leadership, and their departure could add pressure to Facebook executives who already have their hands full"
Baird's latest survey indicates stabilizing user engagement on the core Facebook app, after a long period of declines; that suggests concerns over engagement/monetization-related slowdown may already be adequately reflected in shares
The sequential uptick in Instagram response rate was the largest since Baird began the survey in the second quarter of 2016; given that Instagram now accounts for an estimated around 20 percent of consolidated advertising revenue, "momentum in usage will be an important area of investor focus"
Reiterates outperform rating, price target $195