Facebook Is JPMorgan's Most Controversial Company in Portfolio
(Bloomberg) -- Facebook's looking for a reset, but investors aren't obliging.
After a turbulent 2018, the world's largest social media group is in transition as it pushes to feature Instagram's Stories more prominently on its core platform and roll out stronger privacy tools, JPMorgan analyst Doug Anmuth told clients in a note.
But it's a long road back. Facebook is down more than 26 percent from its recent high less than two months ago. The problem isn't so much revenue growth or anything to do with Instagram -- instead, the challenge is soaring investment spending. JPMorgan said expenditures will curb what Facebook should earn next year, and the year after that.
"Facebook remains the most controversial company in our coverage universe," Anmuth wrote. He lowered his price target to $195 from $205 today and reiterated an overweight rating. The Menlo Park, California-based company has underperformed its FANG peers, falling 9.1 percent year-to-date after several missteps, including mishandling users' personal information and lackluster privacy efforts.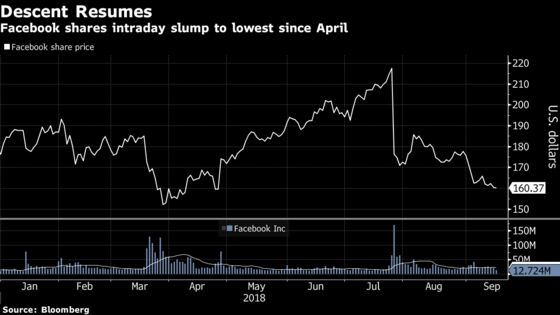 While still new, Stories on Facebook is thus far getting good grades from advertisers, writes Wells Fargo analyst Peter Stabler in a note. He said the feature -- which lets users post pictures and videos that disappear in a day -- attracts advertisers with a low cost-per-thousand impressions. It means a new entry point for smaller advertisers. Stabler, who touts Facebook with an outperform rating, said strong returns on advertising spending from Stories on the core platform "should also serve as a driver for overall platform ad spend growth."
Less clear is whether that's enough to steer Facebook sentiment or move the needle.