Facebook Bull Endorses C-Suite Shakeup With New Russia Claims
(Bloomberg) -- As Facebook Inc. grapples with yet another corporate scandal, some on Wall Street are looking for a shake up of the company's top management and board positions.
With the social media giant "under more scrutiny than ever, the campaign trail to rebuild credibility will be long and difficult," writes Stifel analyst Scott Devitt, who maintains a buy rating on the stock. Facebook, given new claims involving Russia's misinformation campaign, "could accelerate the credibility rebuild by considering making change(s) at the top of the organization," he said in a note to clients.
Shares of Facebook fell as much as 3.9 percent on Friday to the lowest since March 2017. This time, the bad publicity comes amid a rougher backdrop for high-growth technology stocks, which have already fallen out of favor with investors.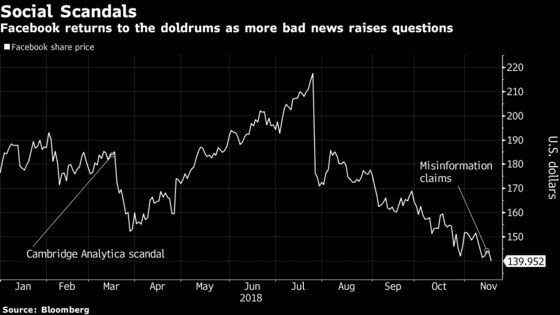 Billionaire investor Stanley Druckenmiller has already headed for the door after cutting his stake in the company from $178 million to $3.6 million last quarter, according to a filing. Some hedge funds, and family offices alike, have done so too.
In April, Chief Executive Officer Mark Zuckerberg sat before Congress over the course of two days and vowed the social media giant would do better in its efforts to protect user privacy. With little subsequent regulation being introduced, large social media and technology business have not had to deliver on promises.
While Stifel still views Facebook as as "worthwhile investment," the firm believes "the hiring of a well-respected external executive could help Facebook begin to move past its current credibility issues and accelerate the trust rebuilding process."
And while the chances of alterations at the board and management may be low, "such a change would be viewed positively by the vast majority of constituents and allow the company to begin moving forward in a productive way."