Ousted Intel CEO to Lead Car-Dealer Software Company 
(Bloomberg) -- The former chief executive officer of Intel Corp. who was ousted over an inappropriate relationship with an employee has accepted a marginal pay cut to join CDK Global Inc., a much smaller company that provides software to the auto industry.
Brian Krzanich, 58, was named CEO and a member of the board, according to a statement. He'll succeed Brian MacDonald, who had been leading CDK since March 2016 and will leave the company after assisting with the transition.
While CDK is far smaller than Intel -- its latest fiscal year revenue of about $2 billion was less than 4 percent of the chipmaker's 2017 total -- Krzanich's compensation won't differ dramatically. His annual target pay will be about $15 million in salary, bonus and long-term incentive tied to goals, compared with a target of about $18.5 million for his last full year at Intel.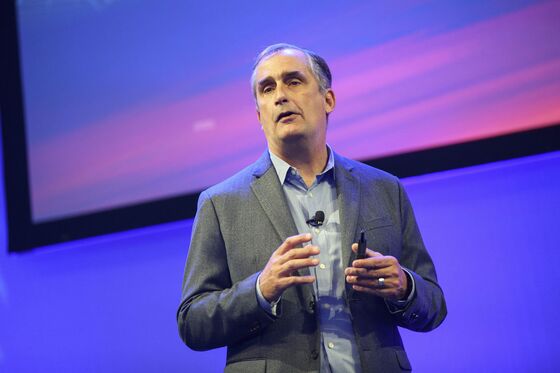 "With 36 years of experience at Intel, Krzanich combines an exceptional track record of creating shareholder value with exactly the right combination of technology and strategic leadership experience," Leslie Brun, CDK's chairman, said in the statement. "The board has full confidence that he has the talent and expertise necessary to lead CDK as it pursues a growth strategy."
CDK fell as much as 9.8 percent as of 2:40 p.m. Wednesday in New York, the steepest intraday drop since August 2015. The company based in the Chicago suburb of Hoffman Estates announced Krzanich's hiring along with quarterly revenue that fell short of analysts' estimates.
Krzanich will also get special stock awards from CDK worth $15.5 million, some of which will be granted only if he purchases $3 million worth of the company's stock, according to a regulatory filing.
By comparison, his predecessor MacDonald was paid about $7.4 million in the most recent fiscal year, partly consisting of a couple of stock awards meant to compensate him for several years.
Intel ousted Krzanich in June after determining that a consensual relationship he had with an employee had violated company policy. Chief Financial Officer Robert Swan was made interim CEO, and the board continues to search for a permanent replacement.
Krzanich spent 36 years at Intel and became CEO in 2013. He had been trying to remake the company into a more general provider of chips, expanding into new markets such as self-driving cars with the purchase of Mobileye in 2017 for about $15 billion.