Coal Analyst Bemoans Investors' Lowly Regard: CERAWeek Update
(Bloomberg) -- It's Day 4 of CERAWeek by IHS Markit, the annual week-long gathering in Houston of some of the energy industry's biggest names. Today's agenda includes offshore wind, Latin American power auctions, electric vehicles and coal's challenges.
It's Hard Being a Sell-Side Coal Analyst (2:20 p.m.)
It's tough being a stock analyst covering U.S. coal companies these days. Just ask Jeremy Sussman.
The managing director at Clarksons Platou Securities Inc. offered up a snapshot of the challenges he faces covering an industry that struggles to attract investors amid competition from cheap natural gas and pressure from environmental activists.
Sussman said the coal companies he covers have a combined market capitalization of about $9 billion, even though they also have a projected free cash flow this year of about $2 billion. He compared that to Snap Inc., the tech company that makes photo-messaging app Snapchat, which is expected to burn through almost $500 million of cash this year while boasting a market valuation of more than $14 billion.
Edison Chief Warns Junk Rating is Imminent (12:52 p.m.)
Edison International's chief executive said the utility owner's credit could be downgraded to junk within months unless California comes up with a fix to wildfire liability issues that forced PG&E Corp. to file for bankruptcy.
At the same time, another year of catastrophic fires could prove fatal for the Southern California utility giant, Edison CEO Pedro Pizarro said Thursday on the sidelines of the CERAWeek by IHS Markit conference in Houston.
"We do not face the risk of bankruptcy based on the prior events of 2017 and 2018," he said. "The risk for all of us is what happens ahead."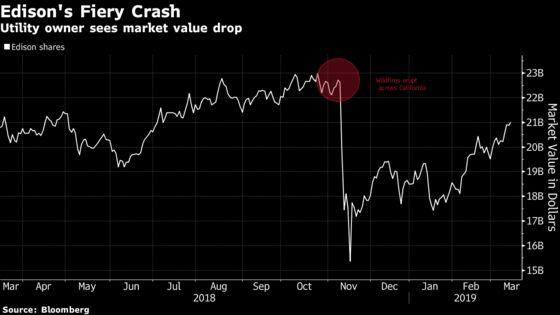 Jera Looking to Diversify LNG Contracts (10:36 a.m.)
Jera Co., which buys liquefied natural gas for Japanese utilities, is seeking to diversify its LNG contracts by securing more short- and medium-term agreements, Chairman Hendrik Gordenker said.
Flourishing American production of the fuel may eventually act as a ceiling on prices, he said.
Coal 'On Its Way Out,' Vistra CEO Says (9:55 a.m.)
The latest sign that coal's losing its sway in the U.S. power market: Vistra Energy Corp. -- one of Texas's largest power generators and coal plant owners -- says the fossil fuel's days are numbered.
"Coal is on its way out," Vistra Chief Executive Officer Curtis Morgan said during a panel discussion. "More and more plants are being retired."
And Morgan would know. The company has had to close four massive coal plants as their margins were squeezed out of the market by cheaper resources. Renewable energy is replacing them, and Morgan said he sees solar power in particular taking a bigger market share.
Solar and wind power together account for a quarter of Texas's generation capacity and have sent electricity prices plunging below zero on some days.
ICYMI:

Exxon Aims for $15-a-Barrel Costs in Giant Permian Operation