European Gas Fluctuates With Tight Supplies From Russia in Focus
European natural gas futures erased earlier losses, with traders weighing concerns over reduced Russian supplies and low storage levels against a milder weather outlook. 
Dutch front-month futures climbed from a two-week low amid persistent concerns of a worsening supply crunch this winter. European gas stockpiles remain abnormally low for the time of year and deliveries from top provider Russia are well below last year's shipments.
"Europe remains in the throes of an energy crisis," analysts at consultant Inspired Energy wrote in a note. Gas supply offerings from Russia are "severely limited," they wrote. 
Prices fell earlier on Monday on signs that muted demand for new liquefied natural gas cargoes in Asia, coupled with a slump in U.S. prices, means more supply of the super-chilled fuel could head to Europe. Gas shipments from Norway are also robust, while milder temperatures are forecast for Europe next week. 
LNG WRAP: Asia Prices Drop With Europe on Loosening Supply
Dutch front-month gas, the European benchmark, rose 0.2% to 89.67 euros a megawatt-hour by 3:12 p.m. in Amsterdam after falling to as low as 85.1 euros. The U.K. equivalent was steady at 228.93 pence a therm.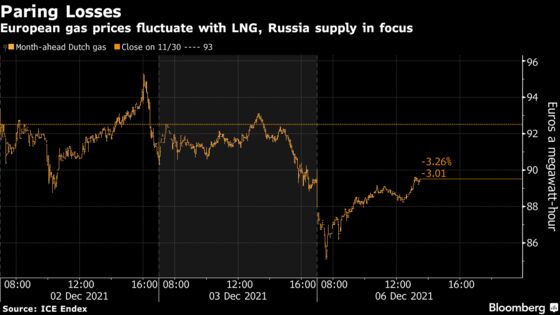 Russia's gas shipments have steadied this month, but remain below last year's levels. While the nation's exporter Gazprom PJSC has said it's meeting all contractual obligations, it's not offering extra fuel to the spot market. 
Read also: Russia Gas Strategy Leaves EU Vulnerable to Big Price Swings
The reduced flows come as Russia seeks approval for its controversial Nord Stream 2 pipeline directly to Germany. The link is built, but is tied up in a highly politicized permitting process with no clarity on when the pipeline will start flowing gas. 
Germany doesn't expect the launch of Nord Stream 2 operations before the certification process is complete, the country's Economy Ministry said Monday, according to RIA Novosti news agency.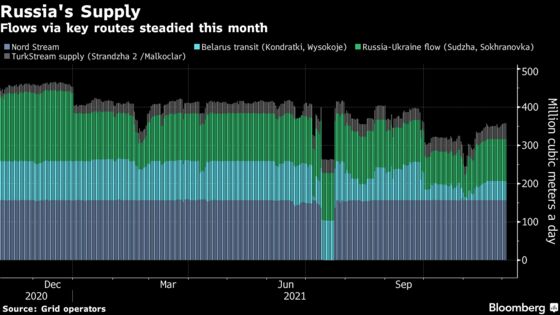 Market stories, analysis
EUROPE GAS OUTAGES: Karsto, Troll Availability to Be Reduced
Italy Studies Pumping More Gas to Cut Imports, Corriere Reports
Euro-Area Inflation Tied to Scenarios for Oil and Gas Prices
BP's Azerbaijan Projects Seen Pumping Less Oil, More Gas in 2022
Stay Updated With
Tech News
On BloombergQuint