Europe Overly Dependent on Outside Technology, EU Memo Warns
(Bloomberg) -- The European Union's executive branch has warned that Europe is placing its core values and strategic influence at risk due to an over reliance on computer hardware and software provided by other countries.
An internal policy document, produced by the European Commission's Directorate-General for Communications Networks, Content and Technology, calls for urgent action and outlines a proposed "initiative for technological sovereignty" that it says could reverse the trend.
Without a change in direction, the "foundations of Europe's society and its values will come under increasing strain, as relying on third countries means relying on their values," according to the document, a copy of which was obtained by Bloomberg News. "Europe's position and influence in global markets will be eroded, affecting European leadership and jeopardizing our technological sovereignty in key industrial strategic value chains."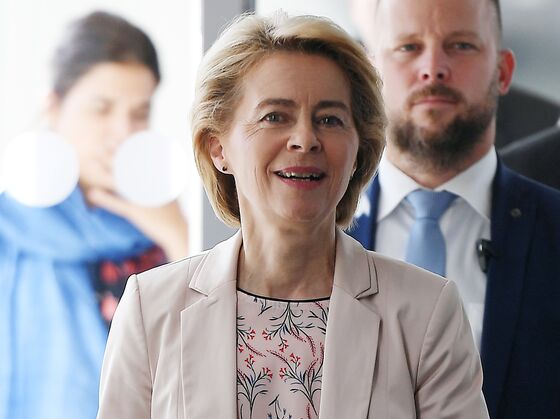 The 23-page document, a chapter in a longer briefing book, appears to have been prepared for senior officials working with Ursula von der Leyen, who in November will replace Jean-Claude Juncker as president of the European Commission.
The European Parliament is set to grill von der Leyen's nominees for the new executive branch in confirmation hearings starting this week, where the issues of technological sovereignty and artificial intelligence are set to come up. If confirmed, Sylvie Goulard, who is picked to be internal market commissioner, and Margrethe Vestager, nominated to be the executive vice president for digital affairs in addition to her current role as competition chief, will ultimately decide the EU's tech policies.
Johannes Bahrke, a spokesman for the European Commission, declined to comment. "We do not comment on leaks," he said in an email.
The document highlights the urgency of a debate over how European's tech community can produce powerhouses to compete with the likes of Apple Inc. or Huawei Technologies Co. European companies that produce the fundamental building blocks of technology -- including semiconductors and software -- have failed to keep up with the increasing cost of investing to stay competitive. Their U.S. counterparts have forged ahead in developing standards and products, while Asian companies such as Samsung Electronics Co. have mastered mass manufacturing at scale that European companies can't compete with.
"In principle we have good research capabilities in Europe, but we are under investing, and in many cases the talented researchers go elsewhere where they get better paid," said J. Scott Marcus, a senior fellow with Brussels-based think tank Bruegel. "In some critical areas like artificial intelligence and machine learning, the lead tends to be in the United States, and China is rapidly coming up. It's a big problem. There's a whole innovation engine here that needs to be torqued up."
During her campaign for commission president, von der Leyen published a manifesto saying she believed it would be possible for Europe to achieve "technological sovereignty" in some areas, such as through investments in quantum computing, algorithms and data-sharing tools.
She has pledged to unveil new legislation to support the ethical development of artificial intelligence within the first 100 days of her taking office. That could include introducing "data passports" that would force companies to explain how their AI systems work, according to Politico, which has also obtained a copy of a briefing book for top officials.
European Commission officials are said to be urging von der Leyen to set up a European Future Fund that would invest more than $100 billion in equity stakes in European companies, Politico reported.
In written responses to lawmakers published in advance of the hearings, Goulard said she would try to help the bloc regain technological leadership by setting standards "to shape how technologies develop according to our own preferences" as well as supporting investments in cutting-edge technologies.
The document suggests such changes are overdue. Europe "is increasingly dependent on foreign technologies in key parts of its economy, some of them essential to our strategic safety," the document states. In addition, it says, most computing technologies are "often made elsewhere, in countries that do not necessarily respect European values and fundamental rights."
The document recommends that the EU take "urgent steps" to increase its support for work in the fields of connectivity, hardware, data, artificial intelligence and cybersecurity. The document expresses concerns that artificial intelligence technologies, if developed outside of Europe, could in the future "severely harm" the continent's citizens and businesses.
It suggests forming new public-private partnerships and tapping into burgeoning marketplaces in the western Balkans and Africa. Deploying the necessary technology across Europe would lead to €2.3 trillion ($2.5 trillion) in economic growth by 2030, according to the document.
Once she's in office, von der Leyen won't have the power herself to institute such changes. They would still need to be approved by the European Parliament and national European governments before implementation.