EU Gas Soars to Record as Crunch Risks Spilling Into Next Winter
European natural gas closed at a fresh record-high as uncertainty over Russian supplies threatened to extend the energy crunch into next winter.   
A geopolitical crisis is brewing as Russia builds troops at the border with Ukraine. A potential invasion would come at the height of the European winter, according to U.S. and Ukrainian intelligence. That could not only delay the start of the controversial Nord Stream 2 gas pipeline, but also risk other supplies at a time when inventories are running dangerously low.
European Union leaders on Thursday will hold a summit, where they plan to discuss the energy crisis, the resurgence of the pandemic and Russia-Ukraine situation. In what could be another flashpoint, the bloc wants to set a deadline to end long-term gas supply deals that are favored by Russia.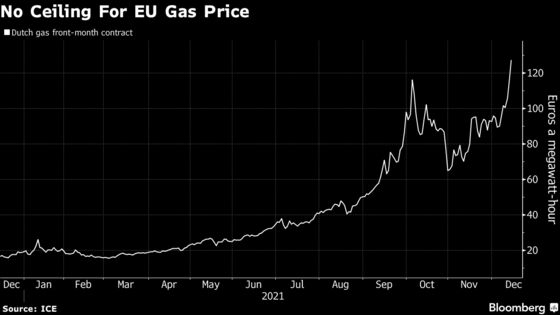 Europe was facing a dire energy situation even before the geopolitical tensions flared up. As economies reopen, demand is roaring back and supply can't keep up, with the continent's large network of renewable power unable to plug the gap most of the year due to low wind speeds. The weather is turning cold this weekend, and gas inventories are the lowest on record for the time of the year.
Inadequate supplies and a cold winter would mean depleted storage sites by the end of March, making it harder to refill them in time for the next heating season. European gas prices are now above spot liquefied natural gas rates in north Asia, in a rare occurrence during peak winter demand. 
Power prices have also surged, with German year-ahead electricity and futures for the first quarter of 2022 in the Nordics reaching record levels on Tuesday. 
"Spot gas and power prices have quadrupled, reflecting market fears of gas shortages over the winter to come," Antonella Bianchessi, an analyst at Citigroup Inc., said in a report. 
Benchmark European gas settled 10.5% higher at a record 128.30 euros a megawatt-hour. The U.K. equivalent gained 9.8% to 323.40 pence a therm, also a record close.
The spread of the omicron Covid variant could, however, help cap surging prices as nations impose more restrictions, limiting economic growth and energy demand. Global oil markets have returned to surplus and face an even bigger oversupply early next year as the new strain impedes international travel, the International Energy Agency said.
"Natural gas markets are vulnerable to price shocks if we experience the below-average temperatures we experienced last winter," S&P Global Platts said in its energy outlook for next year. "Currently, Russia is the primary source of the world's spare capacity and delivering that supply to markets eager to meet demand and rebuild storage will dominate balances and prices in 2022."
GAS MARKET NEWS
EUROPE GAS OUTAGES: Cuts at U.K.'s Perenco Bacton Until Thursday
LNG WRAP: Asia Prices Surge to $40 as European Rally Spills Over
Russia Keeps EU Gas Bookings Unchanged for Wednesday: Auctions
Europe's Power Market to Remain 'Fragile' for Years: Citigroup
U.S. LNG More Profitable to Europe; JKM-TTF Spread Widens: BNEF
Stay Updated With
Tech News
On BloombergQuint