ESPN Says Its New Streaming Service Passed 1 Million Subscribers
(Bloomberg) -- Walt Disney Co. said its new ESPN+ streaming service passed 1 million paid subscribers in the first five months, a faster pace than other new video businesses.
The service, which costs $5 a month, is an crucial test of Disney's efforts to establish a direct link to consumers at a time when more people are watching TV on demand through smartphones and other mobile devices. ESPN+ offers thousands of hours of live programming, including professional hockey, baseball and soccer, as well as college sports that aren't available on ESPN's main cable networks.
"We're thrilled so many sports fans have quickly come to love the service," Kevin Mayer, head of Disney's direct-to-consumer business, said Thursday in a statement.
ESPN has marketed the service heavily to existing cable subscribers on its TV networks and website. This summer, the company merged ESPN Insider, a separate subscription service featuring commentary from experts and daily fantasy tools, into ESPN+, boosting the subscriber counts. But the company says the vast majority of users are new.
Signups at app stores run by Apple Inc. and Google suggest the business generated $1.5 million in revenue for Disney last month, according to estimates from Apptopia, a research firm. But fans can also subscribe through ESPN's website or though TV-connected devices such as those from Amazon.com Inc. and Roku Inc., and Disney disputes that number.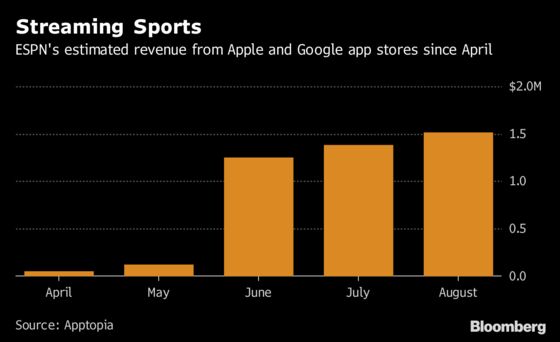 Other video streaming businesses, such as DirecTV Now and Hulu's live service, have taken a year or more to reach the 1 million subscriber milestone. World Wrestling Entertainment Inc. signed up 495,000 subscribers to its WWE Network in the two months after it launched in February 2014. It now has 1.74 million subscribers paying $10 a month.
Bob Iger, chief executive officer of Burbank, California-based Disney, said he plans an investor meeting soon to discuss the company's direct-to-consumer businesses.