Elon Musk's Top SpaceX Deputy Says Her Boss Is Capable as Ever
(Bloomberg) -- The mania over Elon Musk's antics is getting out of hand, according to the second highest-ranking executive at his rocket company Space Exploration Technologies Corp.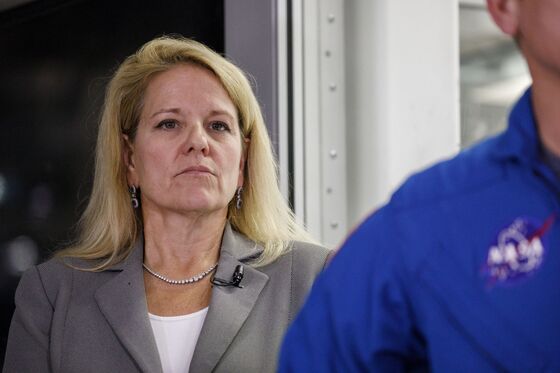 "Elon is a brilliant man," Gwynne Shotwell, SpaceX's president and chief operating officer, said Tuesday after speaking at a satellite industry conference in Paris. "He is as lucid and capable as he has ever been. I wish people would not focus on triviality."
Musk's behavior has spurred a volatile month for Tesla Inc., the electric-car maker at which, like SpaceX, he's chairman and chief executive officer. The stock has sold off since he tweeted his way through a short-lived attempt to take the company private. He gave an emotional interview to the New York Times in which he spoke of exhaustion and drug use. Last week, he smoked marijuana on a popular podcast with a comedian that was streamed online.
There's "no chance" that Musk's conduct will impact SpaceX's ability to win contracts, and there's been "no impact at all" on the level of confidence in him on the part of the closely held company's backers, Shotwell said.
"Look at the work that Elon's companies do and focus on that. Not on what he does" in his own time, she said.
SpaceX probably will fly around 22 missions in 2018. Its workhorse Falcon 9 rocket reached orbit 18 times last year, more than any other launch vehicle in the world. And it's planning a second flight of its massive Falcon Heavy rocket after generating headlines in February by sending Musk's cherry red Tesla Roadster -- with a spacesuit-wearing mannequin at the wheel -- into orbit.
Tesla fell as much as 4.2 percent Tuesday after Romit Shah, an analyst at Nomura Instinet who had been one of the company's biggest bulls, abruptly declared that the stock was "no longer investable." He cited the "erratic" behavior of Musk, 47, including his prolific tweeting, his accusing a cave diver in Thailand of being a pedophile and his taunting of short sellers.
Several analysts and investors have called for Tesla to appoint a COO. Shotwell, 54, said that while she loves cars -- her first job was as an engineer at Chrysler Corp. -- she plans to stick with rockets.
"I do love cars and I love Tesla. It's the best car I've ever driven. But I'm happy at SpaceX," Shotwell said.