Electric Cars Could Switch On the U.K.'s Tuned Out Power Consumers
(Bloomberg) -- The U.K.'s transition to electric vehicles could become the catalyst that energy consumers need to learn about power markets and seek out the cheapest suppliers of electricity.
"There's something about motoring that we understand the cost of," James Heappey, Conservative member of parliament and member of the energy and climate change select committee told a small group of delegates who gathered on Tuesday in London to discuss the future of energy networks. "Most people don't know the cost of a unit of electricity but I bet they know the price of petrol at the five stations nearest to their house."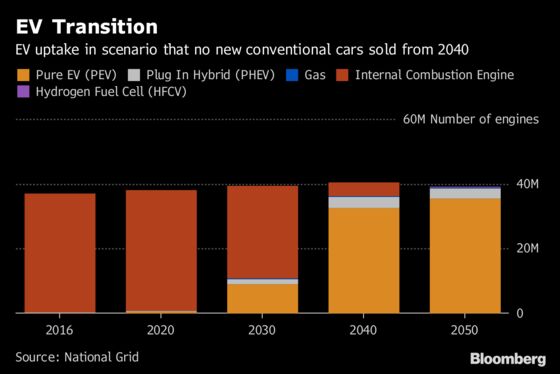 About two-thirds of U.K. customers still pay the most expensive default power tariffs because they didn't switched when their deal expired. The U.K. government is bringing in a law to cap the amount utilities can charge customers on those default tariffs in order to protect those who are disengaged from paying the highest rates.
The move is part of a vision -- shared by policy makers and the energy industry -- in which more savvy energy consumers will be needed to engage with smart homes, automated appliances and electric vehicles. There could be as many as 11 million EVs in the U.K. by 2030 and as many as 36 million by 2040, according to a National Grid Plc report published last week.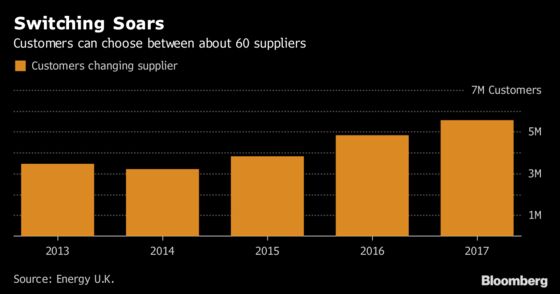 Smart speakers, like Amazon.com Inc.'s Echo, that can turn the lights on and off are already teaching people how to engage with technology that can save energy and preparing them for what's to come, Heappey said.
Cars are parked 95 percent of the time and electric vehicles are key to a smart future because they can act as a battery, taking power off the grid to charge when renewables output is high and also giving it back when they're not being used. This would enable companies to balance their grids and let consumers charge cars when prices are cheapest.
There will be some active consumers who are constantly checking the price of electricity but the majority will put their preferences in once or twice a year with the expectation that automated smart systems will carry them out, according to Patrick Erwin, policy and markets director at network company Northern Powergrid.
"Smart systems need to be built in to homes so that the customer doesn't realize their role in the system," said Alan Whitehead, Labour MP.