Electronic Arts Holiday Forecast Cites Optimism for Battlefield
(Bloomberg) -- Electronic Arts Inc. gave a forecast for revenue in its fiscal third quarter that was broadly in line with analysts' estimates, suggesting that a new Battlefield game due out this month will perform better than early reviews portend.
The video game publisher also known for sports titles such as Madden NFL and FIFA 21 said revenue in the three months ending in December should be $2.63 billion. Analysts had expected $2.67 billion, according to data compiled by Bloomberg. Earnings per share excluding some costs are seen at $3.15, compared with the average estimate of $3.16.
Battlefield 2042 is EA's big fall title, marking a new entry in the shooter series developed by Stockholm-based Dice. The game was delayed by about a month to Nov. 19 due to Covid-related challenges and has received criticism in early testing with players. EA said the open beta had 7.7 million players, positioning it for "a strong holiday season," according to a statement Wednesday.
The previous entry in the series, Battlefield V, failed to meet sales expectations when it was released in 2018, EA has said.
For the fiscal second quarter, Redwood City, California-based EA reported revenue hit $1.85 billion, beating analysts' estimates of $1.76 billion. Earnings per share were $1.58, well over estimates of $1.17. The shares rose about 3% in extended trading.
"This was the strongest second quarter in the history of Electronic Arts, with more players around the world joining and engaging in our leading franchises, new launches and live services," said Chief Executive Officer Andrew Wilson in a statement.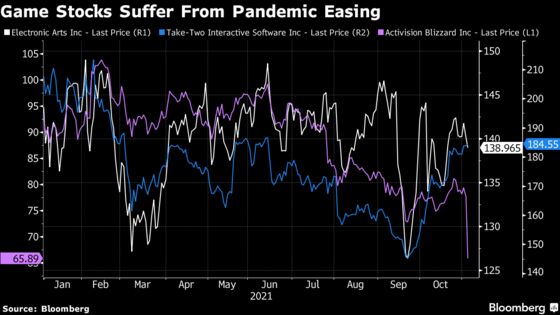 In June, Electronic Arts purchased Playdemic, the maker of the popular mobile game Golf Clash, for $1.4 billion. The publisher said it was looking to boost its offerings in mobile gaming "to reach more players around the world."
But EA's biggest strengths remain in soccer and American football, where it has no competition, said Matthew Kanterman, a Bloomberg Intelligence analyst. Even its public, ugly negotiations with FIFA over the future branding of the popular soccer series won't have a negative impact on the games, Kanterman said.
EA is "in really good shape," Kanterman said, praising the recent promotion of Laura Miele to chief operating officer.
For the fiscal year ending in March, EA said it expects revenue of $7.63 billion and earnings per share excluding some costs of $6.95. That slightly beat analysts' forecasts.
The company's shares are down about 3% this year, outperforming its two other main publicly listed rivals, Take-Two Interactive Software Inc. and Activision Blizzard Inc. Collectively, gaming stocks have suffered in the market from a perception that interest would slow as the Covid-19 pandemic eased and people returned to other activities. Activision reported results on Tuesday, giving a forecast that missed analysts' estimates and announcing a delay of two highly-anticipated games. Its stock sank 17%, the most since 2008. 
Stay Updated With
Tech News
On BloombergQuint