Drought Beats Cold as Threat to Europe Power Supply This Winter
(Bloomberg) -- It's the dry weather and not the threat of chill that's spooking Europe's natural gas and power traders this winter.
An area of high pressure forecast over northern and central Europe, similar to the weather pattern that brought record temperatures in the summer, will act to block wind and rain from the region this month. Low river levels have already forced Electricite de France SA to cut production at some nuclear stations and are choking coal supplies to power plants in Germany.
"We are unable to get as much coal to the power stations as we would like," said Tom Glover, chief commercial officer of RWE Supply & Trading GmbH, a unit of Germany's biggest power producer. "We are seeing lower running hours for coal stations that are on those rivers," he said without being more specific because the details are commercially confidential.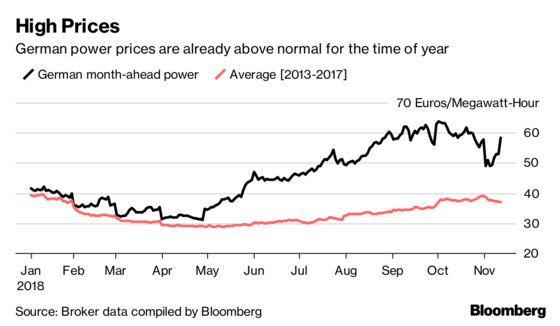 Usually in winter the biggest risk to prices comes from cold snaps increasing demand for heating. But dry weather can curb power plant production by reducing the available water usually brought in from a nearby river. Europe faced a similar problem during a July heat wave, which helped push French and German wholesale electricity prices to the highest in a decade for the time of year.
To read more about power production limits during the summer click here
There's a chance the high pressure that will be centered over central Europe and Scandinavia this month could continue into December, extending the dry spell, according to Giacomo Masato, an analyst and meteorologist at Marex Spectron Group Ltd. in London.
Little rain may worsen river levels still recovering from the summer's heat wave. Boat traffic through Kaub, a bottleneck on the Rhine river that snakes through some of Germany's main industrial zones, is now "impossible for most barges" due to dwindling water levels, according to Riverlake Barging, a Rotterdam-based ship broker.
Energie Baden-Wuerttemberg AG, a German utility that operates 7.2 gigawatts of coal and gas plants located on the Rhine and Neckar rivers, usually supplies its coal plants by barge. It has been forced to replenish stocks by rail, increasing operating costs.
"A cause of concern for us this year in particular, however, is something we cannot influence: the weather," said Chief Financial Officer Thomas Kusterer. "Currently, low river levels and weak wind conditions are having a negative impact on our business."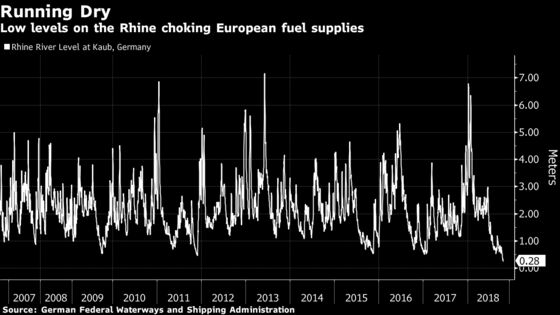 While river levels are at record lows, they can recover fast. In 2015 they rose by more than 2 meters (6.6 feet) in 10 days, according to Diego Marquina, analyst at Bloomberg NEF. Vessels generally don't sail past Kaub when barge clearance is less than 0.5 meters.
Lack of rainfall "might be the biggest risk at the moment, but it's hard to tell how long this will last," Marquina said. If it continues, Germany could have to de-mothball some gas plants or activate some of the hard coal power stations that are held in reserve, he said.
In France, EDF had to cut production last month at its Tricastin reactors due to low flows on the Rhone and reduced output at the Chooz plant on the Meuse river.
An EDF spokeswoman declined to comment on whether the company expects further restrictions.
In the Nordic region, one of the driest and warmest summers ever means hydro power supply levels are struggling to recover. Water is the lifeblood for the region's electricity production, with about half of the region's demand met with hydro power.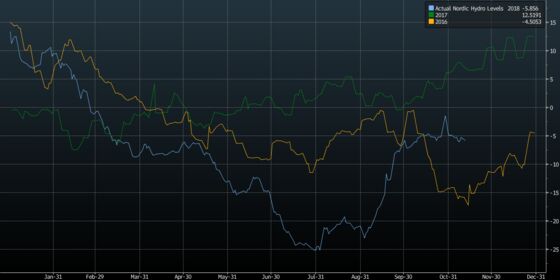 The deficit in hydro reserves stands at 6.2 terawatt-hours today and is forecast to widen to 10 terawatt-hours in two weeks time, according to Wattsight data.