Distressed-Debt Funds Take Breather Waiting for Next Crisis
(Bloomberg) -- Distressed-debt investors, which rode winning bets on Puerto Rico and energy companies this year to beat all other hedge-fund strategies, are hitting the pause button as a booming U.S. economy and narrow yield spreads on junk debt make bargains scarce.
"It's a good time to monetize," said Victor Khosla, founder of the $8.5 billion U.S. fund Strategic Value Partners LLC, which invests in distressed debt. "When high-yield spreads get to be this tight, when markets are this strong, you're not buying as much as you're selling."
Hedge funds investing in distressed debt returned 6.6 percent through August, according to data provider Eurekahedge, the best performance of any strategy and outstripping a 0.3 percent gain for the industry overall. Now, some so-called vulture investors are waiting for the next wave of opportunities -- ranging from indebted Asian companies to economic turmoil in Latin America.
The extra yield over U.S. Treasuries that investors demand to own dollar-denominated junk debt collapsed to the least in more than a decade in January, Bank of America Merrill Lynch's Global High Yield Index shows. Spreads have widened since, but remain close to historic lows.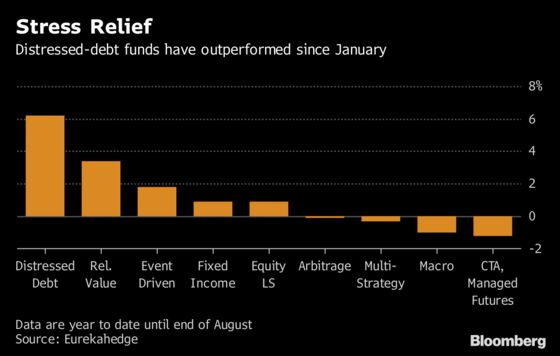 Puerto Rican debt, bought at bargain rates in 2017, has buoyed funds this year. Meanwhile, energy was a big opportunity "over the past few years, and energy companies have performed well this year as oil prices have recovered," said Jason Mudrick, the founder of New York-based Mudrick Capital Management. The firm, which manages $2.2 billion, had an 18.4 percent gain through Sept. 7, according to an investor document seen by Bloomberg.
Betting on a troubled oil producer in the Gulf of Mexico boosted returns for New York-based Halcyon Capital Management LP, which manages about $10 billion, according to John Greene, a portfolio manager. The company, Fieldwood Energy LLC, exited bankruptcy in April. A Halcyon fund delivered a 10 percent gain in the first half, according to a pension fund report.
Wagers on infrastructure and a U.K. waste-to-energy business called Cory Riverside Energy helped Strategic Value Partners' performance, according to Khosla. One of the Connecticut-based firm's funds returned 7.8 percent this year through Sept. 21, according to data from HSBC Holdings Plc. Khosla wouldn't comment on returns.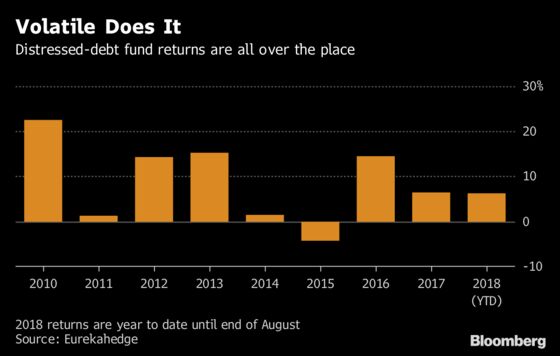 While online competition has savaged the retail industry, that shift hasn't always yielded opportunities for vulture investors. Many retailers are "uninvestable" because of the radical transformation of their business, according to Khosla.
Some of the next big opportunities may be cropping up in emerging markets. Argentina and Brazil are among potentially promising markets as a mix of rising interest rates, currency devaluations and exiting foreign capital puts companies under pressure, according to David Tawil, co-founder and president of the $80 million hedge fund Maglan Capital in New York.
Warning signs in Asia include widening spreads on Indonesian junk dollar bonds, accelerating defaults on Chinese corporate bonds and nonperforming loans in India. Investors hungry for yield helped weak companies in China and India sell debt this year, according to Olivier Spoor, a fixed-income manager at Singapore-based Oclaner Asset Management.
In Europe, opportunities may spring from leveraged buyouts gone bad, he said.
"This year so far was good for distressed debt in the U.S.," Spoor said. "Next year is going to be good for distressed debt in emerging markets and Europe."