Disney Streaming Czar Leaves for TikTok After Missing on CEO Job
(Bloomberg) -- Kevin Mayer, the architect of Walt Disney Co.'s direct-to-consumer video strategy, is leaving the entertainment giant to join TikTok, three months after getting passed over for the job of chief executive officer.
Mayer, 58, will become CEO of the fast-growing Chinese social-media app that's popular with teens and other young people, starting on June 1. His appointment was announced by ByteDance Ltd., TikTok's parent, where he will also serve as chief operating officer.
The departure, though not unexpected, is a loss for Disney's streaming effort at a time when other businesses -- including its film studio, theme parks and TV networks -- are bearing the brunt of the coronavirus-related shutdown. Besides leading the company's online video push, Mayer was the strategist behind numerous Disney deals through the years, such as the acquisitions of Lucasfilm and Marvel.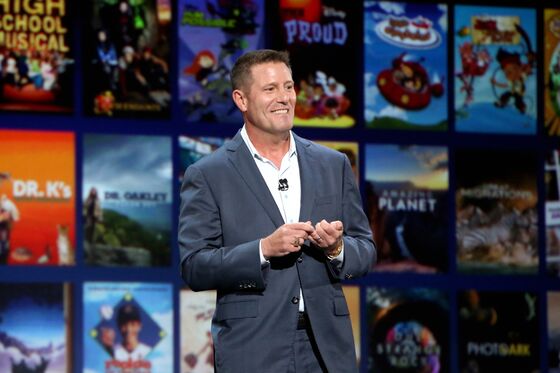 "I just love the mission of TikTok, which is to bring joy and inspiration to people around the world," Mayer said in an interview. He also said he is looking forward to working with ByteDance founder and CEO Yiming Zhang, whom he called "a great visionary guy."
Disney shares dipped as much as 2.1% on the news in late trading, before recovering.
To succeed Mayer, Disney promoted Rebecca Campbell, a 23-year veteran of the company's TV businesses. She most recently served as president of the Disneyland resort in California, but earlier ran its direct-to-consumer offerings in Europe and the Middle East, as well ABC stations in the U.S.
Disney also named Josh D'Amaro to be the new head of its theme parks and consumer-products division. He succeeds Bob Chapek, who was appointed Disney's CEO in February. D'Amaro most recently led the Walt Disney World resort in Florida.
TikTok has been searching for a new CEO since at least January, aiming to take advantage of the app's dramatic surge in U.S. popularity, amid scrutiny from U.S. regulators who have targeted the company as a potential security threat.
Mayer will report to Zhang, who built TikTok, along with its Chinese version Douyin, into one of the world's most popular apps, with more than a billion users.
TikTok fans share short video clips, some comedic, some based on dancing, usually synced to music. That has made ByteDance the most valuable tech startup in the world, challenging the dominance of U.S. companies like Facebook Inc. and Snap Inc.
Mayer joins TikTok as it's building an entertainment business and seeking to generate advertising dollars from its large user base. The company has been staffing up in Los Angeles with executives from Hollywood and the music industry.
Late last year, the company hired Ole Obermann, formerly of Warner Music Group, to run its music operations. Last month, TikTok tapped Nick Tran from Disney's video service Hulu to become its head of marketing in North America.
TikTok is best known for spawning viral videos that have propelled songs such as Lil Nas X's "Old Town Road" to the top of the Billboard charts, and turned performers such as Charli D'Amelio into teen idols. Though TikTok is a household word among teens, it has been growing its audience of older users, too.
Mayer's most recent focus has been Disney+. The $7-a-month streaming service has signed up more than 54 million users since its debut in November. Mayer said it's too early to say whether TikTok will compete directly with Disney in the business of creating movies and TV shows.
"It's a different business model," he said. "And it's a good one in its own right. I have to start there and do my thing and figure out what the future holds."
Mayer said it wasn't an easy decision to leave Disney, which he first joined in 1993. He worked for decades with Bob Iger, now the company's executive chairman, and described the new CEO as "awesome."
"I would never have left ever if I thought it would put the rollout of Disney+ at risk, that's my baby," he said. "The team there knows how to do this. We developed a playbook and it works really well."
He also had praise for his replacement, Campbell: "She is a force of nature."
Mayer said he didn't think his leaving at this time would be an issue for Disney.
"Opportunities come when they come," he said. "ByteDance needed someone for this role, and I felt Disney+ was in good hands."