Crypto Coins Retreat as XRP Hangover Proves to Be Painful
(Bloomberg) -- XRP, the digital currency that's around 60 percent owned by Ripple Labs Inc., is going through a rough hangover following its wild week of gains.
The token, commonly referred to as as Ripple, fell as much as 17 percent to 44 cents Tuesday after nearly doubling in value last week, and has dropped back below Ether as the third-largest cryptocurrency following a brief stint at number two in CoinMarketCap.com listings.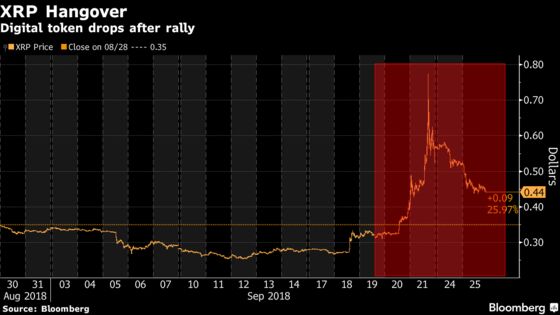 While traders haven't pointed to any particular reason for the pullback, the decline follows a Wall Street Journal report on Monday that Ripple co-founder Jed McCaleb, who owns billions of dollars worth of XRP, has been ramping up sales of his holdings.
Other cryptocurrencies followed in XRP's footsteps. Ether sunk as much as 13 percent to about $204 apiece, while Bitcoin dropped 4.5 percent to around $6,330.