Corbyn Risk Weighs Most on Firms Filling Britain's Bath Tubs
(Bloomberg) -- When two top U.K. ministers resigned Thursday in protest of Theresa May's Brexit pact, the implications were most apparent in one sector: the companies that fill Britons' bath tubs and keep their houses warm.
An index of utilities stocks sank as much as 3.4 percent, the biggest drop among 12 industries in the FTSE All Share Index. Water giant United Utilities Group Plc slumped as much as 4.5 percent, the most in almost five months, while energy providers like Centrica Plc, the owner of British Gas, also slid.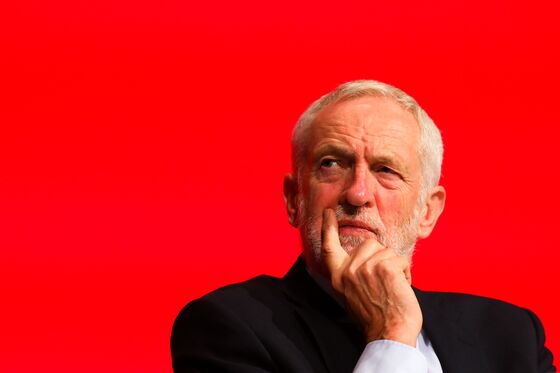 Why? The U.K. Labour Party, under Jeremy Corbyn has pledged to nationalize sections of the industry, while also hitting it with new caps aimed at slashing household bills. The latest episode of Conservative Party turmoil re-stoked fears that a Prime Minister Corbyn could one day be a reality.
"Today's news does make the market more worried that the Labour Party will come to power," Ahmed Farman, a utilities analyst at Jefferies International Ltd. in London, said by phone. "They have very clear pledges on nationalization, particularly the water companies, and they also intend to cut energy prices."
Farman also highlighted a slump in another company targeted by Labour for nationalization, as evidence of growing Corbyn fears. "When I watched them at the Labour Party conference earlier this year, they were very clear on the water companies, and also on Royal Mail," Farman added.
Royal Mail Plc, Britain's beleaguered 500-year-old mail firm, dropped almost 9 percent on Thursday. The shares had risen as much as 2 percent following the company's half-year earnings report, prior to the ministerial resignations being announced.
While there's no sign yet that a general election is in the offing, the turmoil increased in the ruling Conservative Party as the day went on: Leading Brexit backer Jacob Rees-Mogg said he will call for a leadership challenge, seeking to oust May.