China Solar Industry Sets Sights on Record 2021 After Green Push
(Bloomberg) -- China is expected to install a record amount of solar power this year, as the industry continues to benefit from green policies in the country home to the world's largest fleet of panels.
Solar installations in China should reach 55 to 65 gigawatts this year, according to the China Photovoltaic Industry Association's 2021 outlook report. That would be up from 48.2 gigawatts in 2020 and surpass the record set in 2017. Global capacity is set to rise by a record of 150 to 170 gigawatts this year, the association said.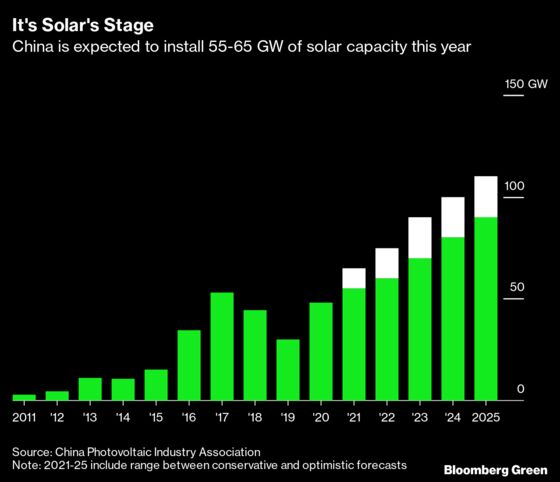 Most solar farms this year should be able to provide electricity as cheaply as the average grid supply as investment costs decline, the association said. Chinese production of polysilicon, wafers, cells and modules all increased by more than 10% last year, although China's solar exports declined.
The outlook comes amid a concerted environmental push in Asia's largest economy. China's long-term climate plans include hitting peak emissions by 2030 at the latest and reaching net-zero emissions by 2060. Shares of solar companies have surged since the 2060 goal was announced in September, with polysilicon maker GCL-Poly Energy Holdings Ltd. up nearly 1,000% in Hong Kong.
Globally, solar is already economically attractive today in most major markets due to policy support and cost declines, according to BloombergNEF, which forecasts 2021 global installations at between 151 and 194 gigawatts.
Stay Updated With
Tech News
On BloombergQuint