China Halts Special Approval Process for New Games
(Bloomberg) -- China's regulators have ended the issuance of game licenses through a stopgap approval process, people familiar with the matter said, closing the last known official path for making money from new titles in the world's biggest gaming market.
Licenses are no longer being granted through a process known as the "green channel," used for testing both domestic and foreign games, said the people, who asked not to be identified because the matter is private. The approval mechanism had been in place since at least August, following the government's decision earlier this year to restructure how it reviews video games for violence, gambling and sensitive topics.
The new restrictions in the $38 billion market threaten the fortunes of game companies such as Tencent Holdings Ltd. and NetEase Inc. and add to the uncertainty about the Communist Party's long-term plans for regulating the industry. The previous crackdown, which affected online, mobile and console games, also hit China's Bilibili Inc., while Japan's Capcom Co., Nexon Co. and Konami Holdings Corp. all saw their shares decline. Tencent has lost about $160 billion in market value this year, more than any other company worldwide.
While it's unclear why Beijing has shut that window, the government has stepped up its oversight of an industry it sees fomenting addiction, myopia and other ills among the country's youth. Some analysts had anticipated that the broader freeze would end by September. They had seen the green channel as a temporary solution to carry the industry until then.
Tencent shares reversed gains and fell as much as 2.1 percent, while Nexon dropped 3.3 percent and Capcom declined 4.6 percent in late afternoon trading in Tokyo.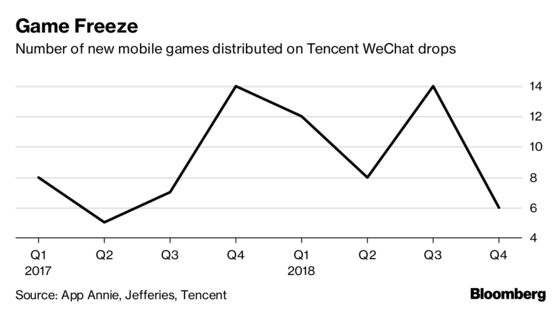 Fortnite, this year's hottest title, was among the games Tencent was seeking to push through the green channel, President Martin Lau told investors in August. The procedure meant that "you can actually have a one-month monetization testing," he said. "That's acted as a relief for the entire industry."
Previously, all new games in China were registered with the culture ministry and checked for sensitive content. Another agency then granted licenses for commercialization. It is unclear how the process will change after the Communist Party finishes its overhaul of approvals. The government agencies didn't immediately respond to faxes seeking comment. Jane Yip, a spokeswoman for Tencent, didn't respond to phone calls and email queries for comment.
Approvals through the channel, never significant in volume to begin with, have stopped emerging entirely as of this month, the people said. The process had given publishers the ability to test how users reacted to games before the official approval process. In practice, it provided some game makers with a limited window to make money from titles during the license freeze.
Industry players have been seeking alternatives to counter the setback. The freeze has given rise to a grey market where Chinese gaming companies have been selling their publishing licenses for as much as 500,000 yuan ($72,000), said one of the people. Prices have dropped to about 200,000 to 300,000 yuan recently, suggesting some people expect the ban to end soon, the person added.
Profits for some games have held up despite the freeze, in part because the lack of new titles has meant gamers keep playing older ones longer. Refreshing existing titles with new content like maps and weapons -- through what's known as live operations -- has helped keep engagement high, according to an executive at one game company.
China gamers have also flocked to Steam, an online platform where people can play unlicensed titles. The site, which is owned by Seattle-based Valve Corp. and operates on the mainland through a partnership with China's Perfect World Co., has so far escaped the government crackdown. Its games are now available via overseas servers, but it's unclear if that will continue once Steam begins using local servers as the China government requires.
"It's interesting how long Steam overseas can remain unblocked, since people are noticing how Chinese gamers are flooding the platform to download games," said Benjamin Wu, a Shanghai-based analyst at Pacific Epoch. "It might only be a matter of time that they get blocked."
Tencent has also manged to monetize some titles despite the freeze. Role playing mobile game Dou Po Cang Qiong came to market in September but wasn't among the games that received a publishing license before March, according to Wu. It's unclear how Tencent has been able to monetize the title, which brought in $8 million last month on iOS and lured two million downloads, according to researcher SensorTower.