Charity's 'Impact' Investment Helps Soviet Emigre Lap Carmakers
(Bloomberg) -- A Baltimore philanthropy is trying to save lives with an unwitting accomplice: the automotive industry.
Since 1995, the Abell Foundation has taken an equity stake in companies tackling big issues from renewable energy to medical innovation. It is one of a small but growing number of nonprofits that have looked beyond stocks and bonds to make direct investments in companies.
One of Abell's most ambitious -- and successful -- investments has been the $25 million it sunk into Paice LLC, a developer of hybrid car technology. That bet is paying off as the company wins a series of lucrative patent-infringement cases against the world's biggest automobile makers.
Its largest deal was with Toyota Motor Corp., which in 2010 struck a licensing agreement with Paice on the eve of a trial that could have led to having its hybrid cars being banned from the U.S. market. Hyundai Motor Co. and Kia Motors Corp. were next in 2015, reaching an agreement after a jury ordered them to pay Paice $28.9 million. Volkswagen AG -- owner of the Volkswagen, Audi and Porsche brands -- followed suit two years later. This year, Ford Motor Co. and Honda Motor Co. fell into line.
Combined, the manufacturers represent more than 80 percent of hybrid vehicles sold in the U.S., according to Paice.
The company was founded by Alex Severinsky, an antitank warfare engineer who came to the U.S. from the Soviet Union in 1978 with $800, settling in Dallas. The next year, while waiting in line for gas during an oil crisis, he was inspired to find a way to reduce his new nation's dependence on foreign oil.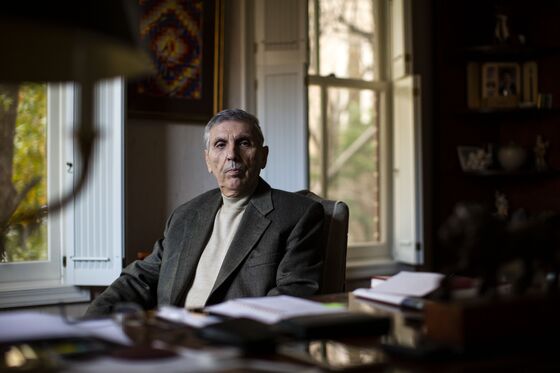 He decided that hybrid cars that combine gasoline and electric power were the best solution. In 1992, he founded Power Assisted Internal Combustion Engines, or Paice, which has been awarded more than 30 patents related to hybrid vehicles -- some of which he says have been infringed by car companies.
That led Paice to court and the International Trade Commission where it has over the past 14 years racked up an impressive string of concessions from car companies.
"People in America are very supportive of people who want to do things," said Severinsky, 74, who stepped down as Paice chairman and CEO in 2006 and now serves as chairman emeritus and adviser.
Severinsky wasn't the only beneficiary. Over the last two decades, Abell support helped Severinsky develop a prototype to showcase his "Hyperdrive" technology that provides a way to supply torque to a car's wheels from both an electric motor and internal combustion engine.
Residents of Maryland's largest city reap these benefits because Abell, which owns a majority stake in Paice, gives away millions of dollars a year in grants.
Since its founding in 1953, the foundation -- named for the founders of the Baltimore Sun newspaper and funded in part with the proceeds of its later sale -- has contributed more than $276 million to the community to advance education, workforce development, arts and human services. Its 2016 tax filing listed total assets of $313 million.
Abell was an early practitioner of "impact investing," an idea popularized in the last decade of seeking both financial return and social benefit.
Robert Embry, the foundation's president, said while Abell was making an impact with its grants its investments weren't "affecting anything positively, really."
"We weren't doing anything for society" with the investments, he said. "Baltimore's major issue was jobs, so what could we do to create more jobs in the city?"
The foundation had hoped its investment in Paice would bring manufacturing jobs to Baltimore, but that was ultimately unrealized as automakers independently pursued hybrid technology. Today, the company is based in Baltimore but consists of six people focused mainly on defending its patents.
Abell has set aside about 20 percent of its endowment -- $70 million or so -- to invest in companies that can spark economic growth in Baltimore. One of its requirements for candidates is to be based in the city or willing to relocate.
Impact investing has taken off among major foundations, such as the Ford Foundation, which has committed $1 billion over 10 years to mission-related investments. In 2014, the Cystic Fibrosis Foundation raked in $3.3 billion after selling the royalty rights to medical treatments developed by a company in which it had invested.
In March, the Nathan Cummings Foundation -- named for the founder of what became the former Sara Lee Corp. -- announced plans to align its entire endowment, nearly half a billion dollars, with its mission.
"There's a rapid move to think about the social impact and explore this impact-investing world," said Amir Pasic, dean of Indiana University's Lilly Family School of Philanthropy.
The financial returns from Paice haven't been easy to come by. It's taken years of litigation against some of the world's most well-known brands.
Frances M. Keenan, an Abell executive who is also chairwoman of Paice, said the company didn't want to engage in messy court battles, but it felt it had no other option to protect its intellectual property. The company hopes to avoid future litigation when pursuing other license agreements, she said, as was the case with Honda in September.
A spokeswoman for Toyota said in a statement: "We're pleased to have resolved our dispute with Paice LLC, which allowed us to focus fully on the important task of further developing our industry-leading hybrid technology without the distraction of protracted litigation."
Representatives for Ford and Hyundai declined to comment.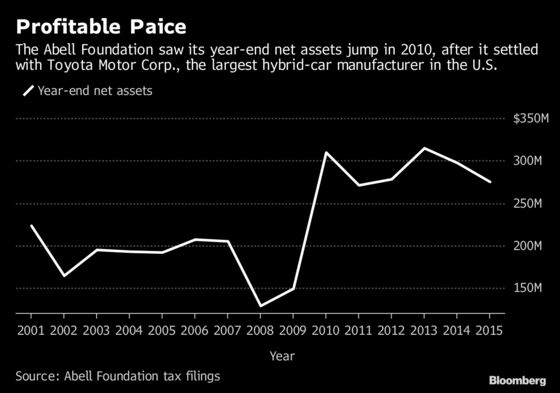 Paice does not disclose the terms of its settlements with major automakers. However, a look at the finances of Abell, which co-owns the domestic patents, hints at how profitable direct investments can be for foundations. In 2010, after Paice settled with top U.S. hybrid manufacturer Toyota, the foundation reported more than doubling its net assets to $309 million.
With some of the patents invalidated by the courts and the others set to expire over the next two years, Paice's role as the crown jewel of the Abell portfolio is set to fade.
"We are at a stage right now where we are coming to the natural conclusion," Keenan, the Abell executive and Paice chairwoman said. Following its success, the foundation started to diversify with smaller investments.
A decade ago, Abell counted seven companies in its direct investment portfolio. Today, there are 33. Its initial investments typically range from $250,000 to $500,000 -- a sharp drop from the approximately $2.5 million Paice got in 1998.
The Abell portfolio ranges from small biomedical startups to ambitious renewable-energy initiatives, such as OTEC International LLC, aimed at commercializing solar energy from the ocean.
The number of its biotechnology investments has grown -- a reflection of Baltimore's burgeoning startup ecosystem, aided by incubators at the University of Maryland and the Baltimore-based Johns Hopkins University.
Last December, Abell announced it made $5.2 million on its $500,000 investment in Harpoon Medical Inc., which developed a device to repair heart valves. The Irvine, California-based Edwards Lifesciences Corp. acquired it for $100 million. Harpoon Medical remains located in Baltimore.
There's a need for local capital as startup funding still flows to California, New York and Massachusetts -- and Abell is in a position to provide it, said Chief Financial Officer Eileen O'Rourke.
"We're an old manufacturing town," she said, "and those big heavy industries are not going to come back. We need to utilize our local strengths to re-energize that economy."
Severinsky remains involved in Paice through his advising the board.
In the fall and the spring, he can be found in Washington where he and his wife, Valentina, live in a three-story Georgian-style home. In the winters, they retreat to a rented property in Miami Beach, Florida.
During the summer months, Severinsky toils in the fields of a Canadian farm he purchased in 2010, where his organic produce ranges from elderberries and black currants to apples and plums.
"This is very good exercise. Whatever you do in the gym is no comparison if you tend to berries," he said. Plus, it's closer to where his son and three granddaughters live.
Severinsky, of course, drives a hybrid: a beige Lexus RX 450h.