CenturyLink at 20-Year Low, Analysts Say Dividend Cut Needed
(Bloomberg) -- CenturyLink Inc. fell on Thursday after it reported fourth-quarter results and said it would cut its dividend by more than half. Analysts said that while the step would be a painful one for the stock, they considered it necessary to shore up the company's finances.
The stock sank as much as 12 percent and it traded at its lowest level since May 1997.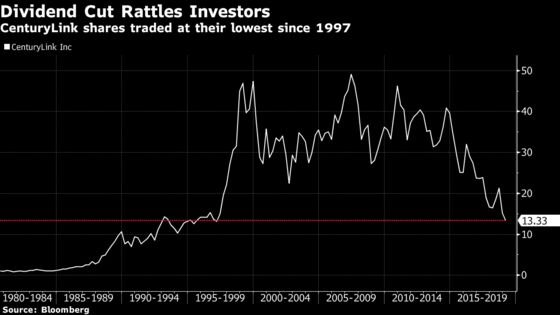 Here's what analysts are saying about the news:
"CenturyLink is taking the right steps to improve its longer-term financial position, including a 3-year cost cutting program. At the same time, we continue to see revenue pressures at the consolidated level, which when coupled with the dividend cut, will likely support further multiple contraction."
Firm has a sell rating and $11 price target.
Deutsche Bank, Matthew Niknam
The dividend cut is "a clear negative likely to weigh on the shares in the near-term." While it is a "tough pill to swallow," it was also a "necessary" step for the company.
"Though we did not believe the dividend was sustainable and were modeling a cut in 2023, we did not anticipate a reduction this early. We note that the cut is also somewhat of a surprise relative to recent company commentary, which indicated the 2019 payout ratio would be in the low-70% range (with the underlying implication of FCF support near-term)."
Has a hold rating on the stock.
The dividend cut "came with in-line earnings and guidance that did not show deterioration from recent trends."
"We see the shift in capital allocation from paying a double digit dividend yield to investing more in the business and actively deleveraging... as a short term credit positive."
Despite that, "we still have some concerns for the long term trajectory of top-line trends."
Goldman has a neutral rating and $16 price target on the stock, according to data compiled by Bloomberg.
Likens the move to ripping a band-aid off.
"The dividend removes a large overhang, fundamentals show modest signs of improvement, the path for balance sheet flexibility is in place, and now it's time to execute."
Keeps market perform rating but cuts price target to $16 from $21.
"Fundamentals are showing modest improvement, but overshadowed by the capital return reprioritization as mgmt. looks to pivot a portion of the dividend savings toward paying down debt."
Morgan Stanley, Simon Flannery
The dividend cut "was in-line with our bear case."
"Whether this is ultimately the right path or not, we think investors will view the cut more cautiously in the near term, especially until there is more clarity on the sustainability of topline improvement + FCF/Ebitda growth."
Keeps overweight rating, but lowers price target to $16 from $25.
Oppenheimer, Timothy Horan
"While disappointing to the yield-minded investor base attracted to CTL, we believe the dividend cut was the proper move to invest in growth and pay down debt faster. The management team should execute on the additional identified cost savings and begin to ramp up capital return to shareholders in a year or so."
Has an outperform rating and $20 price target.