Carbon Offsets Come Into Focus as Part of EU Green Overhaul
(Bloomberg) -- Europe could create a new carbon emissions-cutting market to attract billions of euros of investment and help set green standards globally, according to a group of climate policy experts.
They suggest that the European Union could gradually open up voluntary carbon offsets -- tradeable credits generated for cuts in greenhouse gases that companies can use to justify their green claims.
The tool is growing increasingly popular with companies looking to slash emissions from their carbon accounts quickly and cheaply rather than invest in structural change that takes time to take effect and actually cut emissions.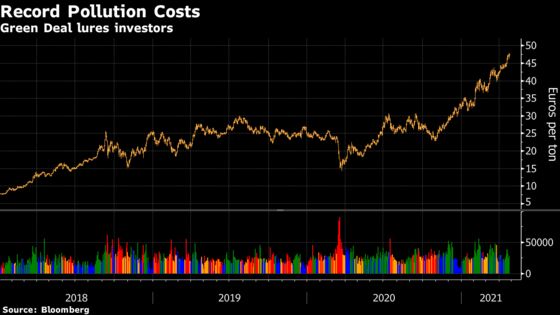 In order to function properly a carbon offsets market would need strong oversight to avoid greenwashing, the experts, who include key architects of the world's biggest emissions cap-and-trade system Jos Delbeke and Peter Vis, wrote in a report published by the European University Institute. Strict quality controls could also avoid repeating past mistakes, which undermined public trust in offsets in the last decade.
"If Europe wants to, it could pilot European and later international offsetting standards, so as to rebuild faith in the mechanism," Vis, a former senior EU official, said in an interview on Tuesday.
Carbon offsets are being looked at as one of the ways the world can tackle and slow its pollution problem. The EU is tightening its emission-reduction targets while countries from the U.S. to Japan are pledging faster climate action. A group led by ex-Bank of England Governor Mark Carney are spearheading efforts to bolster the scale and credibility of the voluntary market, predicting a 15-fold increase in its volume to as much as $50 billion by 2030.
In Europe, the offset trading program would hang between voluntary commitments companies want to develop and the bloc's carbon market that imposes binding pollution caps on heavy industry and power producers. Businesses engaging in offset markets could be requested to disclose key information on climate risks in their corporate reporting.
"Based on proven success, high quality, and solid credibility, it could then gradually open its market to international activities, based on strict criteria," according to the report, whose authors also include a former senior European Commission official Artur Runge-Metzger.
The biggest challenge is credibility. The EU, which used to allow United Nations carbon offsets for compliance in its Emissions Trading System, imposed restrictions in the 2013-2020 period on concerns about their environmental integrity and banned them as of 2021. That sent the price of the credits to close to zero.
Analysts estimate there may still be hundreds of millions of credits coming from projects that fail to deliver credible, high-quality emissions cuts.
This glut may "undermine any new more credible future for carbon offsetting" and is likely to obstruct the emergence of higher offset prices, according to the EUI report. Its authors recommended allowing the UN credits to be used to cover commitments to 2020 but not beyond.