BlackRock Eyes $3 Billion Renewable Energy Boost as Costs Fall
(Bloomberg) -- The world's biggest asset manager is increasing its bet on green energy.
BlackRock Inc. real assets unit plans to plans to invest $2 billion to $3 billion in renewable energy assets in the next two years, according to David Giordano, the firm's global head of renewable power. That's as much as a 60% increase from the $5 billion in renewable assets that BlackRock currently manages through more than 250 wind and solar projects around the world.
The cost of renewable energy has plummeted in recent years, which puts the power in close competition with fossil fuels. That means more possibilities for investors.
"As the costs do come down in terms of the power coming off the projects, that's just going to continue to increase the number of investment opportunities," Giordano said in a phone interview.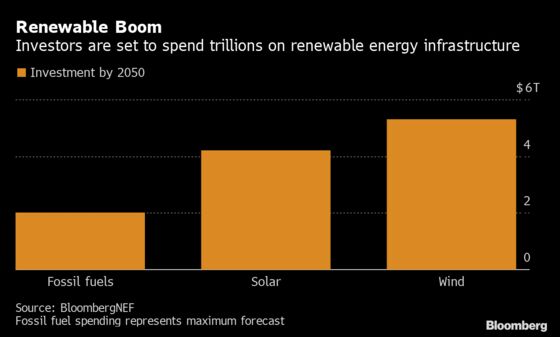 Investment in renewable energy is set to skyrocket in the coming decades as the world transitions away from carbon-intensive electricity. In the next five years, global investors will put nearly $400 billion toward onshore wind and $467 billion in solar projects, according to BlackRock forecasts, based on data from BloombergNEF.
As more capital flows into renewable-energy assets, BlackRock plans to invest earlier. The asset manager aims to invest more often at the development stage, as long as projects already have an agreement in place to sell the power.
"We feel like we can end up getting a better return by evaluating the project at an earlier stage," Giordano said.
In the U.S., the growing scale of commercial and industrial solar projects have made them an attractive asset, Giordano said. As manufacturers got more sophisticated, it also made warranties more reliable and enforceable. The asset manager bought General Electric Co.'s stake in a solar-energy business earlier this year.
The development of solar technology could soon be mimicked by storage projects, Giordano said.
"We're going to see that same trajectory for battery storage," Giordano said. "You already are seeing capital come into that space at scale, which will continue to put downward pressure on the cost of capital."