How Markets Are Moving With Biden as President, From Green to Defense Stocks
Markets are loving Joe Biden's turn as America's president.
The S&P 500 Index on Wednesday posted its best first-day reaction to a presidential inauguration since at least 1937 with a 1.4% jump on prospects of an around $2 trillion in stimulus spending. Global stocks, meanwhile, hit fresh all-time highs.
Biden's formal transition into the White House has cemented investors' faith in companies allied to his policies, while those that don't meet his priorities are losing out. Stocks tied to clean energy rose, continuing gains they have made since Biden won the election. Defense equipment makers and prison operators -- sectors that did well under Donald Trump -- dropped.
Here's what's moving markets as Biden takes office.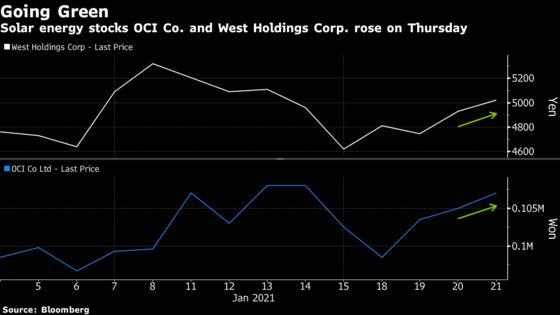 Some clean energy stocks in South Korea and Japan rose on Thursday as Biden signed sweeping actions to combat climate change just hours after taking office. He is moving to bring the U.S back into the Paris climate accord and has imposed a moratorium on oil leasing in some parts of the Arctic.
South Korea's OCI Co., a solar equipment maker, rose as much as 9% and Japan's West Holdings Corp., which builds solar power generation systems, gained 4.5%.
In Europe, renewable-energy stocks including wind power firm Vestas Wind Systems A/S and Siemens Gamesa Renewable Energy SA outperformed in the Stoxx 600 Energy index, both gaining at least 2%.
Elsewhere, stocks exposed to retrofitting buildings to make them more energy efficient edged higher and outperformed the construction sub-index, led by insulation makers Kingspan Group Plc and Rockwool International A/S along with Dutch LED lighting firm Signify NV.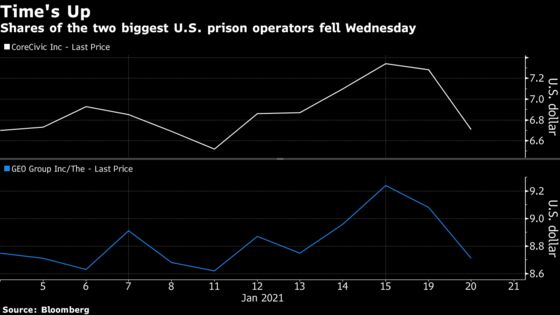 Shares of U.S. private prison operators, long a target of Democrats, tumbled. CoreCivic Inc. declined 7.8% and Geo Group Inc. fell 4.1% on Wednesday. Shares of both companies dropped the most since Dec. 22.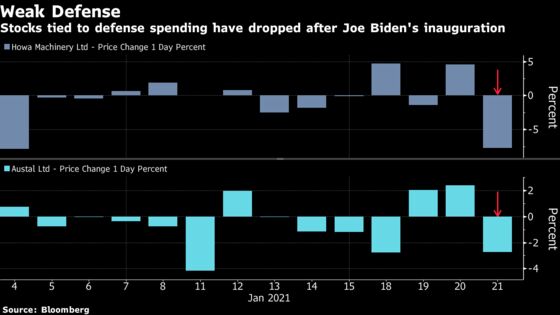 Asian defense stocks dropped on expectations that Biden's less confrontational policies would dampen global geopolitical risks and the need to ramp up spending on the sector. Japanese rifle maker Howa Machinery Ltd. fell 7.8% while Australian defense shipbuilder Austal Ltd., which gets around 77% of its revenue from the U.S., declined 2.7%.