Beijing Shifts Gears to Support Stocks After 2018 Disaster
(Bloomberg) -- China is dialing back scrutiny of its industries at a blistering pace, a surprising turn for investors in a country rife with regulatory risk.
Supportive policies out of Beijing have helped add more than $900 billion to the value of the country's equities since January, lifting firms in the finance, consumer, pharma, solar and education sectors. Expectations that top officials will discuss additional measures at next month's annual gathering, including plans to expand tax breaks, are contributing to the optimism. The CSI 300 Index capped its best week since 2015 after surging Friday.
It's a significant shift from last year, when the government's heavy hand sent shock waves across a market already grappling with a trade war, record defaults and the weakest economic expansion in decades. The Shanghai Composite Index's 25 percent drop was the steepest among the world's major equity benchmarks, and its worst performance since the global financial crisis.
"China's taken a U-turn across the board, making up for the decisions that dealt such heavy blows to its industries last year," said Li Shiyu, managing director at Guangdong Xiaoyu Investment Management Co. "The nation's leaders have realized that policy fine-tuning was needed amid an economic slowdown."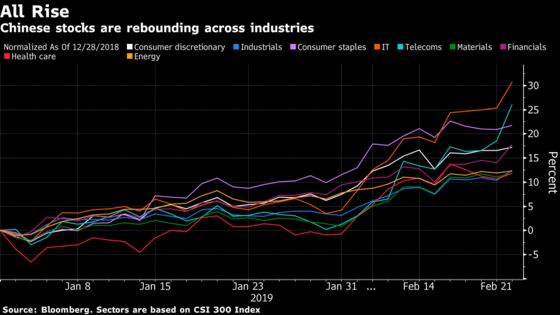 Here's a rundown of everything China's done to the benefit of stock investors.
Financial firms started surging after word got out that top officials had met with banks. The new securities regulator then began reversing many of the trading curbs that were put in place after the stock bubble burst in 2015, generating a buzz for brokerages. The prospect of looser rules for new listings, a pick-up in turnover and margin trading have done the rest: China Galaxy Securities Co., Haitong Securities Co. and Orient Securities Co. of China have all gained more than 40 percent this year.
Brokerages may also soon be in line for tax breaks and cuts to certain fees they pay, according to a local media report Friday.
Beijing has started to encourage listed firms to invest in vocational colleges, a sector currently dominated by the state. The move signals government policy on the nascent for-profit education sector will be less obstructive after a surprise crackdown on kindergartens last year. Winners include China Xinhua Education Group Ltd. and Hope Education Group Co., which have both soared at least 40 percent this year.
Health-care stocks tumbled last year on concern Beijing was driving down drug prices via a new centralized procurement program. Details released last month offered some relief, with analysts saying the government may be more lenient than expected as it will allow a multi-year adjustment period for the price cuts. China also plans to lower value-added tax on 21 drugs for rare diseases from March 1. A gauge of Chinese pharmaceutical stocks has jumped 18 percent this year after losing 27 percent in 2018.
Companies that depend on China's consumers have for months had to contend with a notable slowdown in spending and a preference for cheaper products. Authorities have been rolling out policies to counter this, aiming to boost purchases of cars and home appliances. Local governments have come up with other ways to encourage spending, such as giving workers Friday afternoons off. New income tax reimbursements effective this year are also expected to loosen purse strings.
The result: Geely Automobile Holdings Ltd. is up some 51 percent since a January low, while appliance maker Midea Group Co. has gained 26 percent.
The government's unexpected decision to curb subsidies given to solar projects shook China's renewable industry last year. New measures unveiled in January have eased some of that pain, lowering tariffs for pilot wind and solar power projects that don't receive financial aid. GCL-Poly Energy Holdings Ltd. has rallied 63 percent and Xinyi Solar Holdings Ltd. has jumped 31 percent in Hong Kong this year. Xinjiang Goldwind Science & Technology Co. Ltd. is up 34 percent onshore.
China has resumed granting new licenses for online games after a months-long dry spell that contributed to a 23 percent slump in Tencent Holdings Ltd. last year. The content regulator published an initial batch of approvals in late December, followed by two lists dated January and February. Tencent, which got several of its less-important titles approved, has recovered 35 percent since a low in October. The huge backlog remains a major overhang.