Australia's Top Emitter Plans to Split Off Its Coal Plants
Australia's AGL Energy Ltd., the nation's biggest emitter, plans to split off its coal-fired generation into a separate unit as increased renewables generation upends the nation's electricity landscape.
AGL's decision to separate its fossil-fuel plants is one of the most radical responses yet to Australia's increased wind and solar generation, which undermined power prices and hurt the company's profitability. It echoes a global trend to separate dirtier plants, such as when Germany's largest utilities floated their renewable businesses as separate entities more than five years ago.
AGL's new arm, dubbed with the placeholder "PrimeCo," would encompass 8.9 gigawatts of installed generation representing a fifth of Australia's electricity demand, including the company's coal plants. A second unit, "New AGL," would be the largest power retailer covering almost a third of Australian households.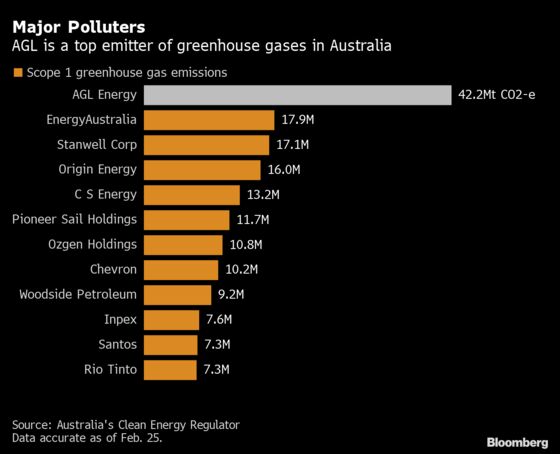 "AGL is trying to dodge its responsibility to manage the shutdown and rehabilitation of its aging coal burning power stations by hiding its coal assets in a separate business," Glenn Walker, Greenpeace Australia Pacific senior coal campaigner, said in a statement. "This demerger should be seen for what it is -- an attempt by a company worried about its brand to hide its reputation as the nation's biggest polluter."
A plan for the separation is slated to be completed by the end of June, AGL said Tuesday in a statement. The company's shares have fallen 11% after it last month flagged expectations of further drops in wholesale prices.
"At our results in February, we talked about how those shaping forces of customer, community and technology were accelerating faster than we had anticipated," AGL Chief Executive Officer Brett Redman said in an investor presentation on Tuesday. "Coupled with continuing pressure on wholesale electricity prices, if anything that pace has only picked up in the past few weeks."
New AGL would take over the company's retail units, as well as its hydro portfolio, battery pipeline, some gas units and a stake in the PowAR renewable generation joint venture. PrimeCo would encompass assets including the coal stations and non-PowAR wind.
AGL's revenue from customer markets was A$7.69 billion ($5.87 billion) in 2020, up from A$7.54 billion in 2019, while its revenue from wholesale markets was A$4.34 billion over the same period, down from A$5.56 billion in 2019.
AGL will immediately start engaging with stakeholders including investors, regulators and government with a view to confirming further details of the separation, the company said.