Aston Martin Revenue Tops Estimates as SUV Drives Volumes
Aston Martin Lagonda Global Holdings Plc reported better-than-expected sales for the first quarter as the British luxury-car maker gets a significant boost from its first-ever SUV.
Revenue soared 153% to 244.4 million pounds ($340 million), beating analysts' average estimate for 196.7 million pounds. The DBX sport utility vehicle accounted for 55% of the vehicles sold to dealers in the first three months of the year.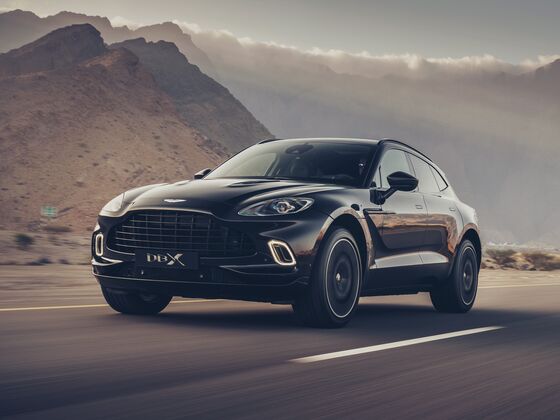 Aston Martin racked up significant losses after going public in 2018 and has spent the last year restructuring itself after a rescue by Canadian billionaire Lawrence Stroll. The 61-year-old fashion mogul has injected much-needed cash and forged closer ties with Daimler AG's Mercedes-Benz to ensure the company survives tumultuous times for the auto industry.
Soon after taking over as chairman last year, Stroll shook up Aston Martin's management and brought in Tobias Moers, who previously led Daimler AG's Mercedes-AMG performance division, as chief executive officer. He also set a target to earn 500 million pounds on 2 billion pounds of revenue by 2025.
"On both our short and medium targets, we remain more confident every day," Stroll said in a phone interview Thursday. "It's the first true, clean quarter that we have had as the new management team running the business and very indicative of what's to come."
Aston Martin plans to expand its portfolio of SUVs as well as introduce hybrid and electric powertrains. Moers said the first derivative model on the DBX platform will launch in the third quarter, with another variant planned for next year.
"These are strong results, and while this should have been expected by the market we believe this should support shares as the management turnaround plan continues to gather traction," Angus Tweedie, an analyst at Citigroup, wrote in a note to clients.
Aston Martin's shares rose as much as 4.7% and were up 2.6% at 8:50 a.m. in London. The stock has almost doubled in the past year.
In October, Aston Martin reached an agreement for Mercedes to supply hybrid and electric components to the U.K. company, building on an engine tie-up that started in 2013. Mercedes will boost its stake in the carmaker from 2.6% to as much as 20% over three years. Aston Martin plans to introduce its first plug-in hybrid model in 2023, Moers said.
Deliveries of the 158,000-pound DBX began midway through last year. Average vehicle selling prices improved significantly in the first quarter, driven by strong demand from China and de-stocking of older models. The company expects as much as 40% of volume to come from the U.S. and China in the future, Moers said.
Aston Martin will begin shipping the new Valkyrie hypercar in the second half of the year.
Stay Updated With
Tech News
On BloombergQuint